Our Favorite Anchorage So Far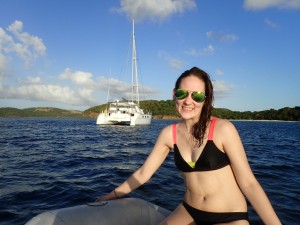 Cayo Luis Pena wins favorite anchorage in our travels thus far.
The bays of this small deserted island just west of Culebra in the Spanish Virgin Islands feature pristine, clear, warm water, fine, white sand beaches, and no one else around…unless you count the five goats we saw on the rocks overlooking our anchorage.
The sand at Cayo Luis Pena stretches way out in "sand roads" which is where Golden Glow found a comfortable anchorage on our passage from San Juan to St. Martin.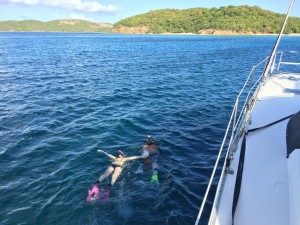 Cayo Luis Pena is a short distance from the larger island of Culebra, and we could see the back side of Flamingo Beach from our anchorage. Culebra is about 35 miles from San Juan, an easy day sail.
There are older coral reefs in sheltered water within easy swim of the beach and we did lots of snorkeling.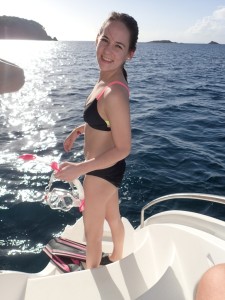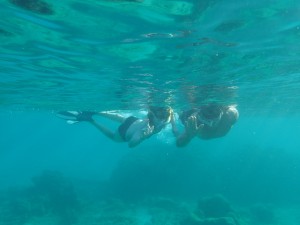 The reefs teem with tropical fish.
Leaving San Juan, the home of mainly power boats, Aria was excited when we passed the Disney cruise ship, complete with a huge Dumbo figure mounted on its stern.
We also saw many opulent yachts, like this sleek one that could have used for a James Bond movie set.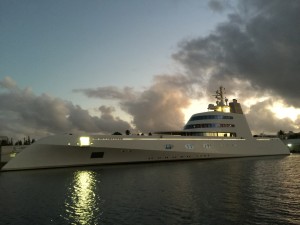 After leaving the Spanish Virgin Islands, we headed for St. Martin to arrive before the large winds and waves Chris Parker had been predicting swept over the NE Caribbean. We followed a northerly route through the Virgin Islands in hope of being able to have a sail south east to St. Martin off the wind.
We sailed by Carvel Rock
past St Thomas
and then St John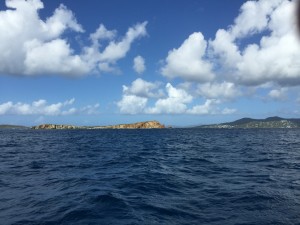 and Virgin Gorda, and arrived in Sint Maarten, the Dutch side at sunrise.
But as the morning passed, we decided what we really wanted was French culture and especially its food, so we headed to Marigot on the French side
and anchored there in search of fresh croissants, which we found in town along with "chocolat" and delicious cafe au lait. Our enjoyment of St Martin will include paddle-boarding
among other things, so it
's time to get started inflating.
We do look forward to spending more time in the Virgin Islands – British, US and Spanish – on our way to Bermuda later this spring, and we'll post more about the beautiful northeastern Caribbean before we head south next week or the week after.