Our Newest Toy Makes Taking 360 Degree Photos & Videos Easy!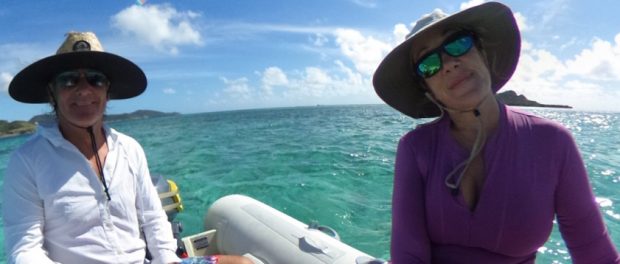 360° photography is now a snap on Golden Glow thanks to the Ricoh Theta, an inexpensive camera that takes 360-degree photos and video with ease. Prior to Christmas 2016, to make 360° photos we had to use our Google Nexus phone, which required standing in one place and moving the phone painstakingly around a 360° sphere as it took all the photos and then stitched them together through its software.
Passionate photographer that he is, Rand learned about and bought the Ricoh Theta 360 camera. What a fantastic invention! It is a narrow, tall camera with two lenses facing in opposite directions. I guess they are the ultimate fish-eye lenses because they capture the whole world around the camera in completely spherical panorama videos and images. The Theta's videos are high definition at 30 frames per second.
The Theta provides a mobile app to see what you're photographing live on your phone or tablet. You can operate the camera using the app, which comes in handy especially when the camera is in its waterproof case underwater. You also can transfer your videos and photos from the camera to your mobile device via a cable or wirelessly.
YouTube can display the full 360 degree Theta videos with the functionality to let the viewer move the screen and move their perspective around 360 degrees. It's amazing! Whether it's an image or video, you put your finger or cursor on your screen and slide the image in any direction to look at a new angle of perspective. Unfortunately vimeo doesn't support the 360 format yet.
Here are some 360 videos, including one of ours, which we accomplished by putting the Theta on a monopod and sticking it in the sand in the midst of a kadima game Rand and I were playing with Savannah. The setting is beautiful – a place we call Turtle Egg Beach (because of the many empty turtle eggs we found on the beach the first time we were there) near Saline Island south of Carriacou. Use your cursor to slide the image left and right – or up and down –  and you'll move yourself around the beach. Isn't that the coolest!?!
Here are some other popular demo videos that will give you the hang of what the camera capable of doing. The camera also shoots fun 360° photos.