Epic Surf Competition at Teahupo'o on Tahiti Iti
Our inspiring San Diego friends, Ryan and Nicole, from Two Afloat, tipped us off on where to anchor once we'd taken care of business in Papeete. We had just finished dinner together on Golden Glow in a serene, unspoilt atoll in the Tuamotos and were saying we weren't looking forward to spending any longer than we had to in touristy Tahiti. How wrong we were! Tahiti is gorgeous…you just have to get out of Papeete and know where to go.
Tahiti Iti
Only a short day sail from Papeete's hustle and bustle is Tahiti Iti, the smaller circle of the figure 8 that makes up Tahiti. "Tahiti Iti" not surprisingly means "Little Tahiti."  Relatively inaccessible by car and therefore bypassed by most tourists, Tahiti Iti boasts clear water, pristine waterfalls, unsullied architectural sites, and beautiful cliffs and caves.
We lucked out because during our time there, Tahiti Iti hosted its world-renowned surf competition, the Billabong Pro Tahiti, at the legendary surf break, Teahupo'o, a short dinghy ride from where we were anchored.
The Wave at the End of the Road
The only road to Tahiti Iti ends at the town of Teahupoo on the south side, and the town of Tautira on the north coast. Teahupoo's famous wave is often referred to as the "wave at the end of the road."
The best surfers in the world congregate at Teahupo'o, which is the only known natural wave in the world that breaks below sea level. Its reef produces one of the heaviest big waves that my favorite surfer, Laird Hamilton, called "the most intense" wave he'd ever surfed. Teahupo'o is famous for being one of the best surf breaks, and also one of the deadliest surf waves on the planet.
Teahupoo's Unique Bathymetry
Like most big wave locations, the key to the wave at Teahupo'o is its unique "bathymetry" — literally, the shape of the sea bottom.

We can attest that Tahiti is surrounded by a steeply sloping ocean bottom. We'll be in an anchorage watching our depth gauge and it can drop from 15 feet to 100 in just a few lateral feet. 50 yards outside the reef at Teahupo'o the ocean floor falls away to over 350 feet. A third of a mile offshore, the ocean floor drops to more than 1,000 feet, and by three miles offshore the ocean is a mile deep. The wave that becomes Teahupo'o rises up from deep water at a "steepness ration" of nearly 1:1 (consider that most barreling reef waves like Hawaii's famous pipeline have a 1:10 ratio.
Remember that the waves that crash on Tahiti's reef have come all the way from the Southern Ocean, New Zealand and Antarctica. When all this powerfully moving water races up a steep slope and comes to a sudden stop against a crescent-shaped barrier reef of razor-sharp coral, this explains why the swell soars upwards to such heights before folding under its own weight. This steep ratio from deep to shallow water contributes to making Tahiti's waves like Teahupo'o so amazing.
What It's Like to Watch a Surf Competition from the Sidelines
Given the thundering size and power of Teahupo'o's surf wave, it's extraordinary that you can watch it from just a few feet away. Teahupo'o is one of the very few places on the planet that allows surf spectators to sit incredibly close to the action without being in harm's way.
Because of Tahiti's geography, surfing spectators, paparazzi, press, sponsor boats, and ambulance jetskis can hang out in the pass within the wave's splash of Teahupoo's 30 foot high perfect double overhead wave.
Coral needs sunlight and salt water to grow and form the reefs that surround Tahiti. Where fresh water from mountain streams runs into the sea, coral-free passes are formed. This is where sailors like us carefully go back and forth from the open ocean to the calmer water inside the reef where we anchor a safe distance away from the coral heads.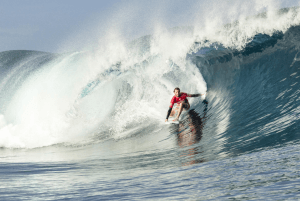 We were able to hang out in our dinghy right on the edge of the surf competition. We shared the pass with other spectators (fewer than I would have guessed – but this was a very out of the way place to find), plus photographers, sponsors, ambulance jetskis outfitted with large stretcher-like platforms behind, jetskis for ferrying the surfers back and forth to shore.
We were incredibly fortunate to have Julian Wilson, the ultimate winner of the 2017 Billabong Tahiti Pro Surf Competition, swim over right next to where we were hanging out to climb aboard a jetski for the ride back to shore after one of his epic heats. Here are Julian Wilson and other talented competitors.
Thanks to the world surf league for these incredible shots!