Partying Like a Rockstar with Rockstars at Jackie O' Mykonos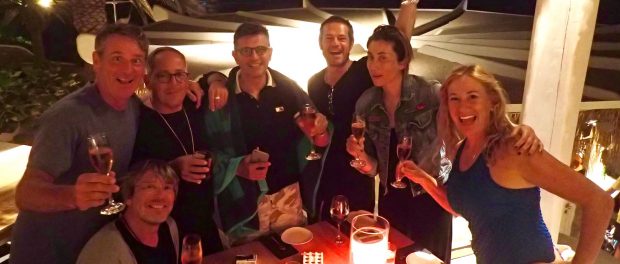 We have always said we like to explore, embrace the native culture and live like locals as we travel the world.  Well, on Mykonos, an island in the middle of the Cyclades Islands, we discovered that the culture is glamour and nonstop partying. Sure, we're game…for a few days at least. So after wrapping up a decidedly unglamorous week of boat work in Preveza and stopping at nearby Delos to connect with the ancient Greek civilization, we continued on to Mykonos for the perfect counterbalance of wining, dining, dancing and being festive at the world-famous Jackie O' Beach.
What drew us to Mykonos was not its massive dance clubs with thumping music, but the invitation of a friend to help celebrate his "big" birthday. We had met Carsten many years ago when he was the intrepid leader of a Following the Path of Buddha trip we took through Asia. In addition to being simply the nicest, kindest  person, he is incredibly creative and the best project manager, special event designer and all-around organizer you could ever know.  Among other things, Carsten was the one who organized the details for the love ceremony Rand planned as a surprise at Tiger's Nest Temple in Butan. Having been his guests in Mykonos, we now know he is also the most generous and thoughtful host in the world too.  Happy Birthday, dear Carsten!
Carsten and his partner, Michalis, own a club called Jackie O's, at Super Paradise Beach on the southern coast of Mykonos. Their other club, also called Jackie O's, is in the town of Mykonos, but it centers around a younger, harder partying crowd. For example, the two inimitable drag queens who perform wildly popular shows at Jackie O's appear first at the beach club in the mid-evening. Then they go to the city club and do a second show there at 1 or 2 in the morning (when the older crowd like us has already gone to sleep)
Carsten's partner, Michalis, is as brilliant a business man as Carsten is a creative genius. Together, they developed a concept that is first class all the way. We had heard the stories of how Carsten and Michalis built their club resort from the ground up and it was wonderful to see the fantastic results of their ingenuity and hard work. Jackie O's is beautifully conceived and managed, down to every last detail. And it sits on the edge of one of the most beautiful natural bays of Mykonos Island.
The club is open only during the summer and features 5-star dining from a Michelin-starred chef in from Athens, a superlative wine list, a Sopris boutique, beauty salon, very hip music over a state-of-the-art sound system, an outside dance floor overlooking the Aegean and, as I mentioned, a show every evening by two very talented "ladies" that had us hooting, hollering – and laughing – along with the diverse and happy crowd.  There were even fireworks, directly from Priscilla's hands no less.
Carsten and Michalis have a large extended family and many friends who came in from Germany, Athens and all over the world for his birthday celebration. And yes, Carsten's birthday did draw rockstars of fashion, the arts, and entertainment worlds, but we won't kiss and tell : ) English seemed to be the main language spoken and when we didn't speak someone's language, it was amazing how well we communicated through sixth senses and our common connection with Carsten and Michalis.
The guests were a witty, educated and cultured group. We met authors, designers, artists, other sailors, expats who have made Mykonos their home, people who come annually for summer vacation for many decades, and people who flew in from other countries for the celebration. Overall, we'd say Mykonos' greatest asset is its array of fascinating people.
Sharing our meals with the owners, Carsten and Michalis, was itself a fun experience. Now we know what it feels like to own your own resort and employ a world famous chef. We never looked at a menu, nor was our money good at the club. Instead, chef Christoforos Peski, with his Michelin star creativity, would outdo himself every night bringing us the best of the best that he wanted us to try. And oh! was the food inventive and delicious!!
Mykonos is a foodie wonderland with a great number of restaurants. Some, like the one at Jackie O's, import the world's best chefs like Christoforos because their clientele expect the best.
Christoforos himself heaped so much praise on Mykonos' grocery store, Flora Market, that we decided we had to check it out. We hadn't seen a market since Gibraltar that had so many imported products. Because we were preparing to take Carsten, Michalis and their family and houseguests for an afternoon sail on Golden Glow, we wanted to stock up on special foods, and Flora had only the best of the best of everything. Shopping there gave me the closest moment I've had to feeling as if I was back in the USA since we left there in November 2014.
We also thoroughly enjoyed the company of a charming couple, Vangelis and Aurora Hatzis.  Aurora is a native New Yorker like me. She grew up in a section of Queens, a borough of New York, where there were many Greek immigrants. So when she played at friends' houses, Greek was the second language and as a young child she had picked it up. She came to Greece on a trip when she was in college, met Vangelis, they fell in love and she returned to Greece to marry him. They now have a son and a daughter and live in Athens.
Vangelis modestly said he was hairdresser and he offered to do my hair, but I didn't want to impose because they were there to celebrate Carsten's birthday like us. Silly me…they were so fun and down to earth I had no idea until after we left that he is one of the world's top 10 hairdresser's Vangelis Hatzis and runs one of the most fully-booked salons in Europe, Vangelis Hatzis. I console myself by the fact that a high-fashion haircut wouldn't work my sailing lifestyle anyway.
We didn't see too much of Mykonos beyond the southern coast near the Club, but we did get to experience the strong winds Mykonos is known for.  Even in our sheltered bay, we experienced 38 knots at anchor. This made our wind generator very happy, and gave us abundant energy along with our solar.
In summary, it's the people of Mykonos who make it such a great place to spend a few days.