Out with the Old & In with the New – Helm Seat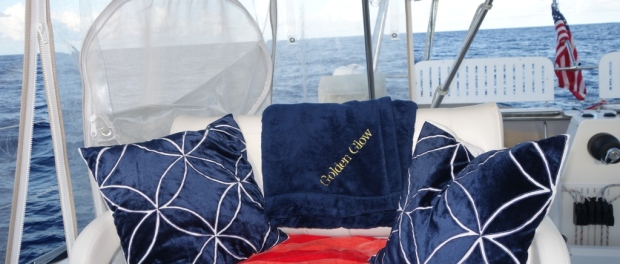 Our helm seat is one of the most important places on our boat. It's where we steer and navigate from, and where we spend much of our time on watches. A helm seat should be functional and comfortable, and ours is.  When I'm on watch, I set the seat up with comfy pillows, a soft throw, and a soft, velour towel under me so my skin never sticks to the fabric. A sybarite's dream of a helm seat!
In our purchase decision, the helm was one of the most influential factors in which boat to buy. Hands down, Antares Yachts have the best-designed helm and this contributes a great deal to the superiority of the Antares as a boat as a true liveaboard, long-distance around-the-world sailing yacht.
Antares helm seats themselves fit the bill of comfortable and functional. There is a lot of storage underneath, which we use to keep near at hand what we need at our fingertips when we're at the helm. To the right and left of the helm seat are four drink holders. They hold our indispensable thermos drink containers perfectly, and also double for keeping track of our cameras and cell phones.
Designer Ted Clements explains the wisdom of his helm's design in this blog post.  So many other catamarans had exposed helms, and that was a strict no-go for us. The more we sail and see sailors at an exposed helm in intense sun, cold or blustery weather, or high seas, we are grateful that we chose a protected helm.
Our helm is made even more protected and cozy because it's behind a glass dodger (windshield) that spans the full width of our boat. The dodger even has full-sized windshield wipers.
We also have a full enclosure that we can pull down all the way around the cockpit to seal out cold and wet, and even mosquitoes.  It makes our cockpit fully functional as an extension of the interior of our boat, like a screened-in porch.
Antares' helm seats are double-wide, which is another departure from some other boats, which are built for one person only. Often Rand and I sit together reviewing navigation, or just to spend time together and I'm grateful that it accommodates both of us so comfortably.
Another unique feature of our helm seat is that the tall back can be set toward the aft of the boat, for when you're facing front. Or it smoothly pivots forward, to face backward, which allows two people to sit there and join a gathering of friends on the seating in the cockpit and back of the boat.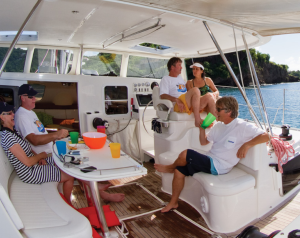 When we were in Charleston, we met some other cruisers who were on a 46 foot Fountaine Pajot cat. They had a single-person helm seat that was basically just a platform with no back. They'd complimented us on our seat and even went online to see if they could find where it came from. They found where our helm seat was available to buy online, and convinced us to sell them our old helm seat and buy the new one for Golden Glow. When we'd bought GG from her prior owners, there was a deep scrape on the seat that we were going to get repaired, but this deal with our new cruiser friends let us get a brand-new seat, and they handled repairing the old one. So we let our old helm seat go to its new, welcoming home, and we replaced it with an identical new one, and made two sets of cruisers happier. Win-win!