New Laundry Invention – Who Doesn't Want to Save Money, Weight & Space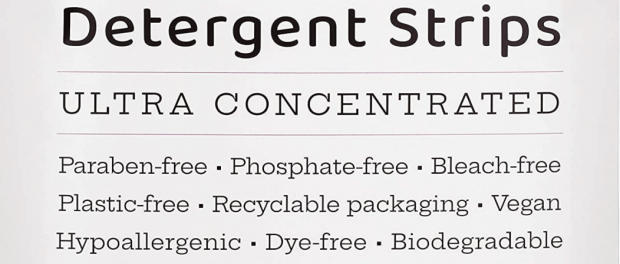 We love having a washer/dryer aboard Golden Glow. Our Splendide European washer/dryer is actually both washer and dryer in one.
It uses half the space, weight and resources for doing laundry. The only problem is the laundry detergent. The Splendide is not a
"HE" high efficiency washer, so we have to use more laundry detergent. It also recommends powder not liquid detergent.
We keep powdered laundry detergent in the small closet where our Splendide is stored. It's quite heavy – 7-8 lbs for the smallish size container and over 15 for the more economically sized one. And it's a constant battle to keep the laundry detergent fresh and dry on a sailboat. We double or triple bag it so it doesn't absorb the sea air and clump up or get ruined, but once the box is opened, it's just a matter of time until it's no longer fit to use.
Until now! Some blessed, brilliant person came up with a new laundry detergent invention that saves space, weight, and doesn't run the risk of being ruined by humidity. Laundry detergent STRIPS that are paper-thin. You unwrap them like bandaids and just drop one directly into the washer.
---
100 loads of the Persil detergent we've been using weighs 15.4 lbs and the box size is 19.61 x 11.69 x 5 inches.$65
96 loads of detergent strips (2 packs) weighs 7 ounces(!) and the each packet is only 10.04 x 6.6 x 0.75  inches $19.78
---
Here are the two types of detergent strips we're testing right now. We chose them to try because they were so pure and free of additives, and they had excellent ratings overall.
We've ordered these two varieties to try.
Please let us know if you've tried them and what you think about how well they clean. They're supposed to do very well even in cold water which is a big plus. We can drop one in a bucket for washing bathing suits on the deck, etc.
Here are the two we're trying. We picked them because they were so pure and free of additives, and they had excellent ratings overall.
ABOUT TRU EARTH BRAND:
ADVANCED HEAVY DUTY FORMULA – Tru Earth Advanced Platinum is our most advanced formula yet, formulated to clean the dirtiest laundry. These laundry detergent strips help remove oils, grease, blood, and smoke from your clothes.
GENTLE FOR SENSITIVE SKIN – We pride ourselves on safety and health. Tru Earth Fragrance-Free Eco-Strips are incredibly convenient, and also hypoallergenic, vegan friendly, paraben-free. Gentle enough for even the most sensitive skin.
HYPOALLERGENIC – It's our mission to put your family first. True Earth Fragrance Free Eco-Strips are hypoallergenic, paraben-free, phosphate-free, chlorine bleach-free, and free of 1,4-dioxane with no added dyes. Certified by independent dermatologists.
NO MEASURING, NO MESS – Let's face it. Traditional laundry detergent is messy, and wastes so much space. Measuring out detergent almost always results in spillage. With Tru Earth eco laundry strips, 1 strip equals 1 load. No measuring and nothing to spill.
NO MORE WASTED SPACE – Tru Earth Eco-strips save your space with our ultra-efficient compact packaging. 400 loads worth of Tru Earth Eco-Strips takes up the same space as a single 100 load jug of traditional detergent.
ABOUT LAZY COCONUTS BRAND:
GET LAZY – Super convenient to throw in with your next load. Whether trekking to the laundromat, living in a dorm, traveling, or at home, just throw a strip into your laundry and forget about it. No more heavy detergent to travel with, no more sticky liquid to pour out, it's time to get lazy!
PLASTIC FREE – Our plastic-free packaging contains absolutely nothing but cardboard. It's 100% recyclable.
EARTH FRIENDLY – Our strips are free of parabens, phosphates, bleach, plastic and dyes. They are Vegan, biodegradable and just all around nice. Each pack is 20 times lighter than comparable liquid detergents, helping to reduce transportation fuel and our overall carbon footprint with each load.
GOOD FOR 3 YEARS – Our strips are good to use for 3 years from the date printed on each pack. That date is the production date, NOT the expiration date! Store them away and use them when you're ready.
30 DAY GUARANTEE – We are committed to providing you with the highest quality products. We're confident that you'll love our detergent strips. But if for whatever reason you don't, let us know and receive a full, no questions asked refund within 30 days.