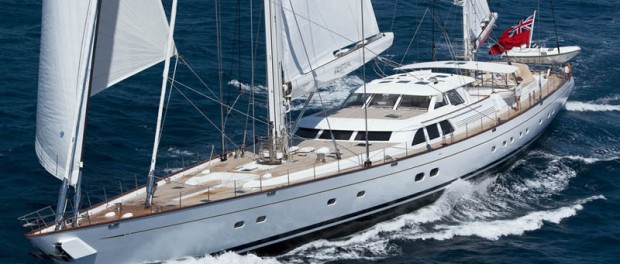 It's been said that the best boat is the one that is paid for. So, while neither of these would be the best boats…at least for us, it's hard not to have a little boat envy admiring their beauty.
I was recently at the TED conference in Vancouver and was introduced to two gentlemen by a mutual friend who said "you're all sailors." Innocently, I asked the what kind of boats they sailed.  Little did I know that I was talking to the owners of two of the world's most envied and admired boats.  And apparently, because these two men are friends, they each used the same team of designers.
The first splendid vessel is Juliet, a 143′ monohull built for Bruce Katz, and the other is Bill Joy's beautiful and eco-friendly Ethereal measuring 190.'  Both boats were designed by Ron Holland, with interiors by Pieter Beeldsnijder.
Juliet
Built over three years for Rockport Shoes owner Bruce Katz, this sailing yacht was heralded as a masterpiece when it was launched in 1993 and quickly became one of the most admired sailing yachts in the world.
Ethereal
Sun Microsystems co-founder and Silicon Valley venture capitalist Bill Joy paid $50 million for this hybrid superyacht, deemed the most eco-friendly and energy-efficient boat afloat, setting a new standard for green luxury. Built by the same design team as the Juliet, the Ethereal was the first boat of its size to employ lithium polymer batteries, which are recharged by the boat's propulsion system while sailing. The luxury ketch houses guests in four cabins, and the owner's suite includes an office, Jacuzzi, and sauna.
As we await our Antares catamaran Golden Glow to be built, we still love to admire (and in some cases drool) over other boats.