Chaps Aren't Just for Cowboys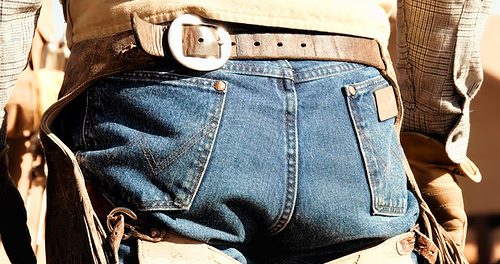 To our non-sailor friends, "Chaps" refer to the leather covering a cowboy wears over his jeans.
Those chaps serve a number of purposes besides looking cool and focusing appreciative glances. When riding horseback, the tough leather protects legs from heavy brush; in the cattle pen, while wrestling feisty calves, they offer protection from kicking hooves; they give an added layer of weather insulation; and they keep the jeans underneath cleaner from mud and dirt.
Well, it turns out our trusty sailboat cars aka "dinghies" or "RIBs" – rigid inflatable boats – also can have chaps. And they are similarly utilitarian. They keep the dinghies' pontoons cleaner underneath, offer weather protection, make it more comfortable to ride the rodeo (waves), and help the dinghies' assets look their best too.
UV Protection
The main utility of dinghy chaps is sun protection. A covering to shade your dinghy from the sun's powerful UV rays will help it last longer. We are heading for equatorial waters where the sun will be especially intense. We have a separate sunbrella dinghy tent that we take on and off when we are on passage, but we decided to get chaps also to give our dinghy pontoons sun protection at all times.
Comfort
Another reason to get chaps is comfort. Dinghy pontoons can get very hot and chaps are much more comfortable to sit on than sun-seared neoprene.
Cleaning
Dinghies require constant cleaning to look their best. After many years of use, our dinghy was past the point of ever returning to looking brand new. A fresh sunbrella cover definitely gives it a mini-makeover, and is also going to be easier to maintain.
How to Make Dinghy Chaps
If you have a mass-produced dinghy, you may find chaps online. Ours wasn't so we had our chaps custom made by a talented canvas fabricator in Grenada out of sunbrella fabric. Sunbrella® is a registered trademark for a very durable outdoor, sun-resistant marine fabric. The canvas company took the dinghy to their factory where they made a pattern template from the dinghy and turned that into the chaps. To install the chaps, they deflated the dinghy slightly to get the new chaps on, then reinflated it to a snug fit, and brought it back "dressed" in its new chaps.
Chaps Attachments
You can have your dinghy chaps attach in three ways: velcro, clips or rope tie-downs. Our dinghy uses the velcro method, and one of its advantages is there is nothing exposed to catch against your skin as you pull yourself up on the dinghy when you're jumped off your dinghy to swim.
There is a piece of velcro that gets glued onto the dinghy just above the rub rail, all the way around. Another piece of velcro goes around the whole chap, and the two pieces of velcro hold the chaps securely to the dinghy.
If your chaps are velcro'd on to the dinghy as ours are, that's where it's vital to know if your dinghy is PVC or Hypalon, the Dupont trademark name for an exterior coating on neoprene rubber and vinyl fabric. Hypalon and PVC need different adhesives because what works on one doesn't work on the other. You need to use the correct adhesive to ensure a good and long-lasting attachment especially in the humid tropics. Here is the adhesive recommended for Hypalon
If you have a PVC dinghy, you can use this less expensive adhesive, lucky you!
If you're unsure whether your dinghy is made of Hypalon or PVC, here's a 3-part test to figure it out:
Back of Fabric; If you can see the inside of the tube, through the valve, Hypalon is a dark grey or black on the inside. PVC is the same color on both sides.
Sand the material; Hypalon will matt down and produce a dust and suede like nap to the abrasion. PVC will just scratch, remain glossy and there will be no difference in color.
Wipe over Solvent Test.  Wipe lightly with an MEK based solvent. (methyl ethyl ketone – often available at hardware, paint or plumbing stores, sold as a cleaner for PVC pipes or lacquer thinner) or Acetone Solvent. Hypalon will leave an oxidization and maybe some color on the cloth, the material will not be affected or become sticky. For PVC you will have some color on the cloth and the surface of the material will feel tacky.
Hypalon costs significantly more than PVC, but compared to PVC, Hypalon is less affected by UV light or salt water, us resistant to oxidation, easier to repair, and stands up better to wide temperature ranges as well as to chemicals, gas, oil, and abrasion. DuPont discontinued Hypalon the year our dinghy was new so we're keeping it going as long as we can.
Pockets
We also added pockets inside the chaps. Under the front seat there is a mesh bag, but in the back these pockets are very handy for storing everything from water to ropes to camera to keys – and keep the dinghy much neater.
DIY if you're brave.
Making your own dinghy chaps has to be one of the hardest canvas jobs imaginable. My hat's off to anyone who does it.
If you want to make your own dinghy chaps, click here for sailrite's downloadable instructions or watch this how-to video:
Here are some sailors instructions for DIY dinghy chaps: http://mccrawsails.blogspot.com/2015/07/making-dinghy-chaps.html
http://hotspur41.blogspot.com/2013/12/monster-project-making-dinghy-chaps.html
http://drinly.com/trend/how-to-make-dinghy-chaps-24707
Next dinghy project – replacing our rub rail!