A Library for Every Sailing Vessel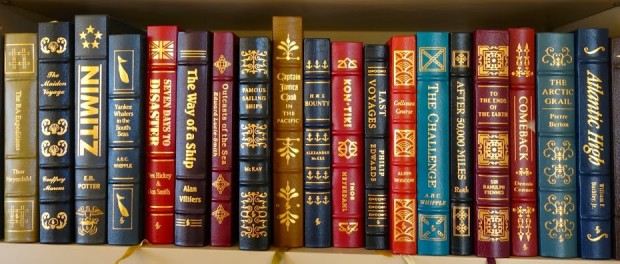 Reading is a favorite pastime of Rand's and mine, and something essential for safety as much as enjoyment for sailors. When the sails are trimmed and the routine maintenance of the day is done, it's a delight to have a good book to sink into.  But what to read?   Here we share our sailing library with you, including essential books on boats, weather, navigation, cooking on board, and some of our favorite novels, travel books and non-fiction stories to read while sailing.
Our selections are our favorites and those family, friends and fellow cruisers have shared.  If you have any comments about the books on our list, or others you want to share, please post a comment. We'll continually update this list.

To find & purchase books for your library, Many of the books on our list also have hyperlinks to our affialite page on Amazon. For those of you not familiar with how affiliate marketing works, if you purchase an item after clicking the link, Amazon shares a small amount of the price back to the referrer. That comes out of Amazon's profit; you pay the same. Even though the commission is tiny, we put it into our sailing kitty – so thank you!

Recommended Books for Your Library from Golden Glow's Sailor's Library
Essential Cruising Reference Books
Navigation and Pilots
Adriatic Pilot, Thompson
Atlantic Crossing Guide, 5th Edition Anne Hammick
Charlie's Charts of Polynesia
Charlie's Charts of the Western Coast of Mexico (including Baja)
Cruising Guide to Southeast Asia, Elaine Morgan; Stephen Davies
Cruising Ports: Florida to California via Panama, Captain Pat and John E. Rains
Dutton's Navigation and Piloting Dunlap Shufeldt Naval Institute
Greek Waters Pilot Rod Heikell 
Guide to Cruising Northern Australia – Cairns to Darwin (Paperback) Leslie P. Richards
Indian Ocean Cruising Guide, Rod Heikell
Italian Waters Pilot, Rod Heikell
Landfalls of Paradise, Earl R. Hinz
Mediterranean, France and Corsica Pilot, Rod Heikell 
Mexican Boating Guide, Captains Pat and John Rains
North Africa Pilot, Hans Van Rijn and Graham Hutt
Red Sea Pilot: Aden to Cyprus (Mediterranean Pilots & Charts) by Elaine Morgan; Stephen Davies 
Sailors Guide to the Windward Islands, Chris Doyle
Sailors Guide to the Leeward Islands, Chris Doyle
South Pacific Handbook  Bill Dalton, David Stanley
The Atlantic Islands: Azores, Canaries, Madeira and Cape Verde Islands RCC Pilotage Foundation 
The Pacific Crossing Guide, Royal Cruising Club, Michael Pocock
Turkish Waters & Cyprus Pilot: A Yachtsman's Guide to the Mediterranean and Black Sea Coasts of Turkey,  Rod Heikell 
Windward Islands Chris Doyle
Galley
How To Books on Sailing and Cruising
All in the Same Boat: Family Living Aboard and Cruising, Tom Neale
 The Capable Cruiser: Expanded and Revised Lin Pardey
Changing Course: A Woman's Guide to Choosing the Cruising Life, Debra Cantrell
The Cruiser's Handbook of Fishing, Wendy and Scott Bannerot
Cruising for Cowards: Second Edition. A Practical A-Z for Coastal and Offshore Sailors, Liza Copeland
Cruising 101: Avoiding the Pitfalls of Paradise Amy L. Sullivan
Cruising Life, The: A Commonsense Guide for the Would-Be Voyager, Jim Trefethen  
Offshore Sailing: 200 Essential Passagemaking Tips (Hardcover) William G. Seifert and Daniel Spurr
Rigging Enrico Sala
Sailing: A Woman's Guide, Doris Colgate
Sail into the Sunset, A Handbook for Ancient Mariners, Bill and Laurel Cooper
Sell Up & Sail, Bill and Laurel Cooper
Singlehanding, Meisel
Storm Tactics Handbook: Modern Methods of Heaving-to for Survival in Extreme Conditions, 3rd Edition Lin Pardey
The Cruising Woman's Advisor, Second Edition Diana Jessie  
The Yachtsman's Emergency Handbook,  Hollander & Mertes
Sailboat Maintenance
Circumnavigation Stories
After 50,000 Miles Hal Roth
Against all Odds, Around Alone in the BOC Challenge, Alan Nebauer
The Circumnavigators, a History, Derek Wilson
The Circumnavigators, Small Boat Voyages of Modern Times, Donald Holm
Following Seas: Sailing the Globe, Sounding a Life, Beth Leonard
The Improbable Voyage, Tristan Jones
Islands, Oceans and Dreams, Michael Salvaneschi
Just Cruising, Lisa Copeland
Letters from the Lost Soul, Five-Year Voyage of Discovery and Adventure, Bob Bitchin
9 Years on the 7 Seas Anne E. Brevig
Reluctant Mariner, Joanna Hackett
Sailing Alone Around the World, Joshua Slocum  
Sailing  Promise: Around the World in a Catamaran, Alayne Main and Dom Degnon
Still Cruising, Liza Copeland
A Trimaran Sails the Seven Seas, Jerry Heutink
Two on a Big Ocean, Hal Roth
Nonfiction Stories: True Cruising and Sailing Stories
Adrift, Seventy-six Days Lost at Sea, Steven Callahan
Always a Distant Anchorage

,

Hal Roth
An Island to Oneself, Tom Neale
Blown Away, Herb Payson
Blue Latitudes, Boldly Going Where Captain Cook Has Gone Before, Tony Horwitz
Cape Horn: One Man's Dream, One Woman's Nightmare, Reanne Hemingway-Douglass
Celestial Navigation for Yachtsmen  Mary Blewitt
Chasing Dreamtime, a Sea-going Hitchhiker's Journey through Memory and Myth, Neva Sulliway
Close to the Wind, an Extraordinary Story of Triumph over Adversity, Pete Goss
Courage at Sea, Naomi James
Cruising in Seraffyn, Lin and Larry Pardey
Cruising is Contagious, Adventures of a Cruising Couple, Charles E and Corrine C Kanter
Cruising Adventures, 3-book series, Come Aboard, Wandering Under Sail, Sou-West in Wanderer IV, Eric Hiscock
Cruising around the world, west to east, Best of Multihulls Series: Vol 2, Rosalind Miranda
Dark Wind: A Survivor's Tale of Love and Loss, Gordon Chaplin
Desperate Voyage, by Robert Caldwell
8 Men and a Duck: an impossible voyage by reed boat to Easter Island, Nick Thorpe
Flying Cloud, true story of America's most famous clipper ship and the woman who guided her, David W. Shaw
Gentlemen Never Sail to Weather, Denton Richey Moore
Ice! by Tristan Jones
The Incredible Journey, Tristan Jones
Master and Commander, Patrick O'Brian
My Old Man and the Sea: A Father and Son Sail Around Cape Horn David Hay
N by E, Rockwell Kent (Greenland)
North to the Night, A Spiritual Odyssey in the Arctic, Alvah Simon
Passage to a Palm Tree, Malcolm Cameron
Passage to Juneau, a Sea and its Meanings, Jonathan Raban
Perfect Storm, The, Sebastian Junger
A Prairie Chicken Goes to Sea, Margo Wood
The Proving Ground, G. Bruce Knight
Red Sea Peril, Shirley Billing
Rough Water, Stories of Survival from the Sea, Clint Willis
Saga of a Wayward Sailor, Tristan Jones
Sailing to the Far Horizon, the Restless Journey and Tragic Sinking of a Tall Ship, Pamela Bitterman
Seafaring Trilogy, Hal Roth
Shackleton's Boat Journey, F.A. Worsley
Sufferings in Africa, Captain James Riley
Survive the Savage Sea: 37 Days in Mid-Pacific, Dougall Robertson

Survivor, Michael Greenwald

Tales of a Sea Gypsy, Ray Jason
Travelers on a Trade Wind, Marcia Pirie
Two Years Before the Mast, Richard Henry Dana, Jr.,
View from Pluto, Stuart Buchanan (Queensland, Australia)
Voyage of Rediscovery, Ben Finney
Wanderer, Sterling Hayden
We Followed Odysseus, Hal Roth
Who's Who in Pacific Navigation, John Dunmore
Wreck of the Batavia, Simon Leys
Yarns, Tristan Jones
Nonfiction Stories: Other Travel and Adventure Stories
Australia, True Stories of Life Down Under, Travelers' Tales Guides
A Year in Provence and Encore Provence, Peter Mayle
Danzinger's Travels, beyond Forbidden Frontiers, Nick Danzinger 
Down Under, Bill Bryson
Far Eastern Tales, (Malaysia) Somerset Maughan
Fire, Sebastian Junger
Happy Isles of Oceania, The: Paddling the Pacific, Paul Theroux
In the Land of Oz, Howard Jacobson
Kon-Tiki, Thor Heyerdahl
Manana Means Never (Southeast Asia) Michael Brochue
Mosquito Coast, The, (Honduras), Paul Theroux
Mutant Message Down Under, Marlo Morgan (Australian aborigines)
Pillars of Hercules, Paul Theroux
Soul Mountain, Gao Xingjian
Traveler's Tales, Thailand
Utulei, My Tongan Home, Patricia Ledyard
We of the Never-Never, Aeneas Gunn 
Whale Rider, Witi Ihimaera, (about New Zealand Maori)
Wild Country, Jeff Carter (Australia)
History, Geography and Guide Books Africa:
Cape Verde Islands, The Bradt Travel Guide
Egypt, The Lonely Planet
Eritrea: Even the Stones Are Burning,  Roy Pateman
I Didn't Do It for You : How the World Betrayed a Small African Nation, Eritrea, Michela Wrong
Surrender or Starve, Robert Kaplan (Ethiopia, Sudan, Somalia, Eritrea)
Yemen: The Unknown Arabia,  Tim Mackintosh-Smith
Asia:
1421, The Year China Discovered the World, Gavin Menzies
Before the Deluge, the Vanishing World of the Yangtze's Three Gorges
Beyond the Last Village, Alan Rabinowitz
Fried Eggs with Chopsticks, Around China by Any Means Possible, Polly Evans
Life and Death in Shanghai, Nien Cheng
On Top of the World, Five Women Explorers in Tibet, Luree Miller
The Private Life of Chairman Mao, Dr. Li Zhisui
River at the Center of the World, A Journey up the Yangtze and Back in Chinese Time, Simon Winchester
Sri Lanka, a Travel Survival Kit with Maldives, Tony Wheeler, Lonely Planet
Sri Lanka, The Lonely Planet
Sri Lanka, Globetrotter, with excellent travel map
Tibet, Tibet, a Personal History of a Lost Land, by Patrick French
Traveler's History of China, Stephen Haw
Australia & New Zealand:
At Home in Australia, Peter Conrad (picture book
Australia, The Lonely Planet
Best of Aussie Slang, Eric Spilsted
Cape York, The Savage Frontier, Rodney Liddell
Cape York Peninsula, History of Unlauded Heroes, 1845-2003, Lennie Wallace
Captain's Log, New Zealand's Maritime History, Gavin McLean
Fatal Shore, the, by Robert Hughes
Healers of Arnhem Land, John Cawte (Aborigines)
Great Barrier Reef, The Lonely Planet
Queensland, The Lonely Planet
New South Wales, The Lonely Planet
New Zealand, The Lonely Planet
Songlines, Bruce Chatwin (aborigines)
Voices of Queensland, Julia Robinson
Wildflowers of Outback Australia, Denise Greig
Europe:
Athens, Best of, Lonely Planet
Baedeker's Paris
Baedeker's Portugal
Canary Islands, Lonely Planet Guide
Eastern Europe, The Lonely Planet
France, Catalan Region, Michelin
Greece, Michelin
Greek Islands, Insight
The Italian Way (Behavior, Attitudes and Customs) Mario Costantino
Neither Here nor There, travels in Europe, Bill Bryson
Provence and the Cote D'Azur, Insight Guide
Provence, The Green Guide, Michelin
Reluctant Tuscan, How I Discovered my Inner Italian, Phil Doran
Turkish Odyssey, a Cultural Guide to Turkey, Seril Yenen
Turkey, The Lonely Planet
Sixty Million Frenchmen Can't Be Wrong, Why we Love France but not the French, Jean-Benoit Nadeau & Julie Barlow
Spain, Balearic and Canary Islands, Michelin
Thirty Days in Italy, Escape to the Good Life, James O'Reilly
Venice, The Dramatic History of the World's Most Beautiful City, Francesco Da Mosto, photographs by John Parker
Western Balkans, The Lonely Planet
Middle East, Arabian Peninsula:
The Arab Mind, Raphael Patai
Arabian Peninsula, The Lonely Planet
Arab-Israeli Wars, Chaim Herzog
Are We Living in the End of Times? Tim LaHaye, Jerry Jenkins
The Case for Israel, Alan Dershowitz
The Crisis of Islam, Bernard Lewis
Dead Sea Scrolls Deception, Michael Baigent, Richard Leigh
Israel, Frommer's
In Israel Today,  Paul & Nuala O'Higgins 
Jerusalem, City of Mirrors, Amos Elan
Josephus, The Works of , Comprising the Antiquities of the Jews; a History of the Jewish Wars; and Life of Flavius Josephus (autobiographical)
Qur'an, Translation by Abdullah Yusef Ali
Left Behind Series, Armageddon and Others, Tim LaHaye, Jerry Jenkins
Mission Al Jazeera, Josh Rushing
Nine Parts of Desire, Geraldine Brooks
Reclaiming the Dead Sea Scrolls, Lawrence H. Shiffman
Struggle for the Holy Land, Arabs, Jews and the Emergence of Israel, William Hare
The Final Battle, Hal Lindsey
What Went Wrong, Bernard Lewis
Revelation, The Torah and the Bible, Jacob Neusnser and Bruce D. Chilton
North, Central and South America:
Caribbean, Frommer's
Caribbean the Lesser Antilles Insight Guide
Costa Rica, The Lonely Planet
Chile Handbook, Footprints
Eastern Caribbean, The Lonely Planet
Getting to Know Panama, Michele LaBrut
The Maya,  Michael D. Coe
The Panama Cruising Guide, Eric Bauhaus
In Patagonia, Bruce Chatwin
The Old Patagonia Express, Paul Theroux
Path Between the Sea, the, Creator of the Panama Canal, David McCullough
The Story of a Shipwrecked Sailor, Gabriel Garcia Marquez
Southeast Asia:
Bali, Insider's Guide, includes map and reference guide
Cities of the Hot Zone, Southeast Asian Adventure, Greg Sheridan
Culture Shock! Malaysia
Culture Shock! Thailand
Hard Travel to Sacred Places, Rudolph Wurlitzer (Thailand, Burma, Cambodia)
Head-Hunting and the Magang Ceremony in Sabah, Peter R. Phelan, Natural History Publications
Indonesia Handbook, Footprint Guides
Indonesia, The Lonely Planet
Land of a Thousand Eyes, the subtle pleasures of everyday life in Burma, Peter Olszewski
Laos, The Lonely Planet
Malaysia, Singapore and Brunei, The Lonely Planet
Myanmar (Burma) The Lonely Planet
Sandakan, the Last March, Don Wall (Borneo, WWII)
Short History of Southeast Asia, Peter Church
Thailand, The Lonely Planet
Thailand Fever, Chris Pirozzi, Vitida Vasan
Three Came Home, Agnes Newton Keith, (Borneo)
Tropical Wildlife of Southeast Asia, Periplus Nature Guides
South Pacific (French Polynesia, Melanesia, Micronesia)
After Moruroa, France in the South Pacific, Nic Maclellan, Jean Chesneaux
Aku-Aku, (Easter Island) Thor Heyerdahl
Captain James Cook, Richard Hough
Coming of Age in Samoa, Margaret Mead
The Explorations of Captain James Cook in the Pacific, (autobiographical)
Fatu-Hiva, Back to Nature, (Marquesas) Thor Heyerdahl
Fiji, a Precarious Coalition, Shubha Singh
Fiji's Heritage, a History of Fiji, Kim Gravelle
Fiji, The Lonely Planet
Life in Feejee, Life Among the Cannibals, Mary Wallis
Kava in the Blood, A Personal and Political Memoir from the Heart of Fiji, Peter Thomson
King of Tonga, a biography, Nelson Eustis
Mahathir: the Wake-Up Call, Hassan Hamzah (Malaysia)
Micronesia, The Lonely Planet
Nomads of the Wind: A Natural History of Polynesia, Peter Crawford
Prehistoric Exploration and Colonization of the Pacific, Geoffrey Irwin
Romancing the Islands, Journeys in the South Pacific, Kim Gravelle
Salote, Queen of Paradise, A Biography, Margaret Hixon (Tonga)
Samoa, the Lonely Planet
Sisters in the Sun, The Story of Suwarrow and Palmerston Atolls, A.S.Helm, W.H.Percival, Travel Book Club
South Pacific, Frommer's
South Pacific Handbook, Moon Travel Handbooks
Tahiti and French Polynesia, Lonely Planet
Tonga, the Lonely Planet
Trespassers on Easter Island, Hanns Ebensten
Typee, a Peep at Polynesian Life, Herman Melville
Vanuatu, The Lonely Planet
Fiction:  Sailing, Travel & Adventure Novels
Casuarina Tree, Malaysia, W. Somerset Maugham
Cruel Sea, the, Nicholas Monsarrat
Death of a Swagman, Arthur Upfield
The Far Country, Nevil Shute  (Australia)
The Five Winds, Patricia Shaw (Historical, Australianna)
Jerusalem Conspiracy, The, Charles Samuel
River God, Wilbur Smith
The Pacific and Other Stories, Mark Helprin
Sea Wolf, Jack London
Secret of Shambhala, James Redfield (Tibet)
South Sea Tales, Jack London
Nonfiction Stories: Travel & Adventure, Cruising & Sailing
Adrift, Seventy-six Days Lost at Sea, Steven Callahan
Always a Distant Anchorage, Hal Roth
An Island to Oneself, Tom Neale
A Year in Provence and Encore Provence, Peter Mayle
Blown Away, Herb Payson
Blue Latitudes, Boldly Going Where Captain Cook Has Gone Before, Tony Horwitz
Cape Horn: One Man's Dream, One Woman's Nightmare, Reanne Hemingway-Douglass
Cruising is Contagious, Adventures of a Cruising Couple, Charles E and Corrine C Kanter
Circumnavigators, the, Small Boat Voyages of Modern Times, Donald Helm
Dark Wind: A Survivor's Tale of Love and Loss, Gordon Chaplin
Desperate Journeys, Abandoned Souls, Edward E. Leslie, Fatu Hiva, Thor Heyerdahl
Fire, Sebastian Junger, contains a harrowing in-the-trenches profile of Ahmad Massoud, the Afghan guerrilla leader an ally of the West for nearly two decades, Massoud was assassinated two days before the terrorist attacks on the U.S.  Junger was in Afghanistan last December.
Following Seas: Sailing the Globe, Sounding a Life, Beth Leonard
Gentlemen Never Sail to Weather, Denton Richey Moore
Happy Isles of Oceania, The: Paddling the Pacific, Paul Theroux
Incredible Journey, The, Tristan Jones
Letters from the Lost Soul, Five-Year Voyage of Discovery and Adventure, Bob Bitchin
Perfect Storm, The, Sebastian Junger
The Proving Ground, G. Bruce Knight
Sailing Alone Around the World, Joshua Slocum
Sailing  Promise: Around the World in a Catamaran,Alayne Main
Survive the Savage Sea: 37 Days in Mid-Pacific, Dougall Robertson
Tales of a Sea Gypsy, Ray Jason
Travelers on a Trade Wind, Marcia Pirie
Two Years Before the Mast, Richard Henry Dana, Jr., a Signet Classic
Voyage of Rediscovery, Ben Finney
Wanderer,Sterling Hayden
We Followed Odysseus, Hal Roth
Cruising How To Books
All in the Same Boat: Family Living Aboard and Cruising, Tom Neale
Changing Course: A Woman's Guide to Choosing the Cruising Life, Debra Cantrell
Cruising 101: Avoiding the Pitfalls of Paradise, Amy L. Sullivan, Kevin J. Donnelly
Cruising Life, The: A Commonsense Guide for the Would-Be Voyager, Jim Trefethen
Cruising Woman's Advisor, The: How to Prepare for the Voyaging Life, Diana Jessie
Sailing: A Woman's Guide, Doris Colgate
Voyager's Handbook,  Beth Leonard
Voyaging under Power, Robert P. Beebe, James F. Leishman (Editor)
Guide and Pilot Books; History and Geography Books
Australia, The Lonely Planet
Canary Islands, Lonely Planet Guide
Captain James Cook, Richard Hough
Cape Verde Islands, The Bradt Travel Guide
Charlie's Charts of Polynesia
Charlie's Charts of the Western Coast of Mexico (including Baja)
Cruising Ports: Florida to California via Panama, Captain Pat and John E. Rains
France, Catalan Region, Michelin
Frommer's Caribbean
Frommer's South Pacific
Getting to Know Panama, Michele LaBrut
Great Barrier Reef, the Lonely Planet
Insight Guide Caribbean the Lesser Antilles
Landfalls of Paradise, Earl Hinz
Mexican Boating Guide, Captains Pat and John Rains
Nomads of the Wind: A Natural History of Polynesia, Peter Crawford
North Africa, Atlantic Coast of Morocco, Straits of Gibraltar to Tunisia, Royal Cruising Club, Hans van Rijn and Graham Hutt
Path Between the Sea, the, Creator of the Panama Canal, David McCullough
Provence, Michelin, The Green Guide
Queensland, the Lonely Planet
Sailors Guide to the Windward Islands, Chris Doyle
Sisters in the Sun, The Story of Sparrow and Palmerston Atolls

,

A.S.Helm, W.H.Percival, Travel Book Club
Spain, Balearic and Canary Islands, Michelin
South Pacific Handbook, Moon Travel Handbooks
The Explorations of captain James Cock in the Pacific
The Pacific Crossing Guide, Michael Pocock
Trespassers on Easter Island, Hanns Ebensten
Vanuatu, The Lonely Planet