Italy's Best Kept Secret: Golfo di Orosei, Sardinia, Italy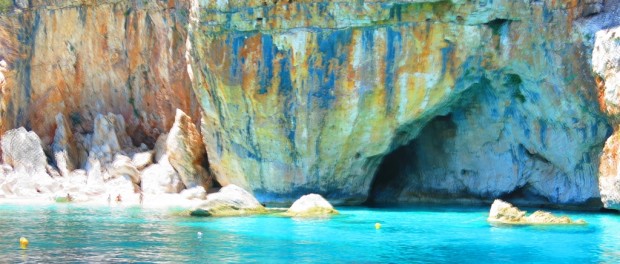 Our dear friend, Joanne, came to spend a week with us. Back at home, she works very hard taking care of others, her children and her patients, and we wanted her to have a relaxing vacation in as beautiful a place as we could find. Mission accomplished! The Golfo di Orosei turned out to be Italy's best kept secret with white sand beaches, hidden coves and caves, and towering cliffs that gave us the breathtaking scenery, clear water, peace and tranquility that we could have hoped for. You can only get deep into the Golfo di Orosei by boat, so we had it almost to ourselves, and at the end of Joanne's stay with us, we decided that this is a paradise we will return to.
Joanne flew into Cagliari, the largest town on Sardinia, so we started her cruise at the southern tip of the island. Sailing around to the east coast and northward, in just a few hours the topography starts to change as the island's largest mountains meet the coast, and rock formations and cliffs seem to drop right into the emerald sea. Because of the cliff-lined shoreline, the Golfo has more dramatic scenery than the Costa  Smeralda (the Emerald Coast) further north, known for its megayachts, multi-million dollar villas and glitterati. Many of the Golfo's most beautiful beaches can be reached only by boat, which keeps them unspoilt. There are boat excursions which take tourists to five or so of the prettiest "Calas" in one day, Cala Luna, Cala Mariolu, and Cala Sistine to name a few of the most popular. They also take tourists to the celebrated grottoes like Grotto del Blue Marina with its stalagmites and stalactities, Grotto del Fico and Grotta dei Colombi. You hear the tourists boats approaching with the tour guide making announcements and loud music playing. Hundreds of tourists are deposited on the beach. Their groups get louder and louder as the day progresses.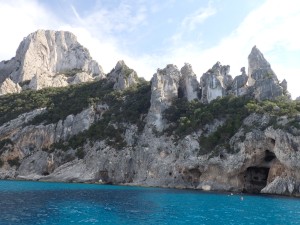 We were able to stay a step or two ahead of these boats' schedules, and anchor overnight off the cliffs as long as we were 100 meters from the beaches where there wasn't another boat anywhere in view. This meant we had these treasures all to ourselves for more than 12 hours a day. Here are more photos from our time in the Golfo di Orosei: