Pink Floyd: Live at Pompeii
For drummer Hunter Pipp, going to Pompeii was perhaps less to see a city snuffed out in 79 AD by Vesuvius' mighty eruption, as it was a pilgrimage to the amphitheater built in 80 BC but made important to him when Pink Floyd recorded their memorable concert at Pompeii (director's cut) in 1971.
Legend has it that Pink Floyd was able to write into their contract that they could play wherever they chose and they selected the amphitheater. Another take on the story was that the director, Adrian Maben, had become interested in combining art with Pink Floyd's music, and during 1971, he reached out to the band's manager to discuss the possibilities of making a film to achieve this dream. After his original plan of mixing the band with assorted paintings was rejected, Maben went on holiday to Naples.
During a visit to Pompeii, he lost his passport, and went back to the amphitheatre he had visited earlier in the day in order to find it. Walking around the deserted ruins, he thought the silence and natural ambient sounds present would make a good backdrop for the music. Maben persuaded the local authorities to close the amphitheatre for six days that October and Pink Floyd recorded their concert without an audience, strictly to make it a video.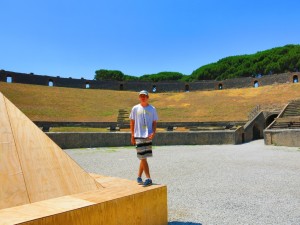 <= Here is Hunter standing on the pyramid erected in the amphitheater to house the bodies of some of those who perished at Pompeii. A pyramid was also the symbol of Pink Floyd's 1973 album Dark Side of the Moon.