Sardinia & Corsica – Costa Smeralda, the Maddalenas & Strait of Bonifacio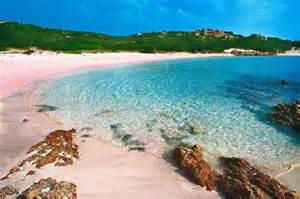 Sardinia overflows with scenic splendor. In an earlier post, we shared how sublimely beautiful we found the Golfo di Orosei to be, and how much we loved being there, especially after the day-trippers departed. It turned out to be our favorite cruising spot in Sardinia, and now that we've left Italy, we can say it was our favorite sailing destination in all of Italy.
We found other gorgeous places in Sardinia, namely Costa Smeralda, the Maddalenas, the Straits of Bonifaccio, and the southern coast of Corsica too. I debated doing a separate blog post on each region, but we're already in Greece now and falling behind on covering where we've been, so I'll share a bit on each, though less than their beauty deserves.
Costa Smeralda
After leaving the Golfo di Orosei with our dear friend Joanne, visiting from California, we sailed farther north up the east coast of Sardinia to Costa Smeralda, which is about 35 miles of coastline closer to the north end of the island.
The "Emerald Coast" is where the super-rich come for the high season from June through August. When I did my research before Joanne's visit to find the most beautiful and best sailing areas in Sardinia to take her, Costa Smeralda was number one on many lists. Joanne did her homework too, and the place she also heard about as "the" place to go was Costa Smeralda.
Since the Aga Khan built a villa here in the early 1960's and started inviting all his friends, this jagged section of granite coastline has become home to a high-end summer resort lifestyle. The area has many lavish villas and high fashion shops, and in the high summer season, it is frequented by expensively attired, richly bejeweled jet-setters.
Porto Cervo is the most famous port on the Costa Smeralda and people go there to hob-knob with the rich and famous and even royalty (Hollywood and monarchies). We pulled in to check it out, but its fancy marina and hustle and bustle held no attraction for us.
Cost aside, the main negative of Costa Smeralda is actually a surplus of its riches. Its popularity and easy access via road have made many of its beaches and bays crowded. This sounds crazy, but you see so many megayachts on Costa Smeralda that you stop gawking. Okay, well maybe we did look twice at this megayacht – after its deck-mounted helicopter took off.
It's hard to believe that these megayachts are personal boats. We were at customs and immigration in one port and the agent for a megayacht was checking it in. Immigration asks you to designate crew and passengers separately. We overheard her say there were 44 crew aboard and only 2 passengers. Perhaps a few could come to Goldem Glow and feed us peeled grapes -they wouldn't even be missed!
If you get away from Porto Cervo and the megayacht scene, you'll find what we liked best about the Costa Smeralda. The Mediterranean Sea in this area is unlike anywhere else. The color ranges between turquoise and a deep green that brings sparkling emerald jewels to mind.
Luckily for us, on Golden Glow we can get where the megayachts cannot. We glide into small, quiet coves where we find wonderfully uncrowded beaches, few other boats, and peace and quiet to enjoy that magnificent emerald water. We found one bay in particular that became our favorite secret spot (we'll share its coordinates if you email us).
This hidden bay offered us the ideal anchorage: shelter from winds and waves, a gorgeous and calm bay to paddleboard and kayak to our hearts' content, excellent holding for our anchor on a sandy bottom, water that was so clean and clear that we could see all the way down to the anchor 18-20 feet below.  And last but not least, there was fast, free wifi in the bay, perhaps thanks to one of the multi-million dollar villas along the shore kindly or forgetfully keeping access open. The network was called "home."
There was a small beachside resort at one end of the bay, so Joanne and I paddled in to check it out one evening. The beach and beach bar and restaurant were closed for the evening; food and drinks were now being served in the formal dining room in the hotel. The hotel manager happened to be on the beach with another person and he was very friendly. He let us know that we could have day passes for the beach, including beach lounges and towels, for only 200 euros a person and we could have 4-hand massages on the beach for 400 euros for 60 minutes. We did not take them up on these offers, but we had a marvelous time sharing their bay for a few days.
After chatting with the manager for a while, he must have thought Joanne and I had sailed from the USA (since Rand was back on the boat). The next day, a German hotel guest kayaked out to Golden Glow saying she wanted to meet the two ladies who were sailing around the world. Oops.
The Maddalenas
Leaving Costa Smeralda, we sailed further north to the north coast of Sardinia where we entered the Maddalena archipelago. This area is a marine preserve and you have to pay $50 a day to sail or anchor there. Three separate rangers asked to see our permit in a single day so the rules are enforced. On a one-day pass, you can arrive the night before and stay until 9 am the following day. You can use this link to apply for a permit online.
Some of the islands have pebbly beaches and other have ones of soft white and pink sand. Unfortunately, the beaches on the main island of Maddalena were littered with trash as soon as you went past the narrow beach area to the rocks behind. We wonder if that's because this island is the only one that's populated.
We didn't linger long on Maddalena island due to its noise and garbage. Instead, we sailed to several more remote islands in the Maddalenas and spent most of our time near Isola Santa Maria and Isola Spargi. These islands are close to Isola Budelli, where so many tourists were taking away the pink sand that the whole island has been off-limits for several years.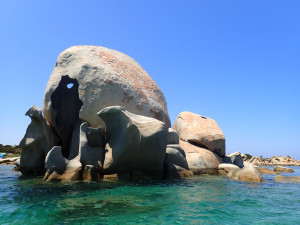 Our favorite feature of the Maddalenas were the unique and dramatic rock formations, eroded by millennia of winds and waves. We kayaked to explore them and were able to pull close enough to jump off the kayak and climb around the rocks.
But overall, we found the Maddalenas to be a bit disappointing, mainly because of the effect of man on these islands.  This is a fairly new marine preserve, only about 20 years old. Let's hope over time that the environment will become cleaner and that boat traffic will be better controlled and trash problem cleaned up. After the serenity and more dramatic scenery of the Golfo di Orosei, and the lush magnificence of the Costa Smeralda, both of which didn't cost us a euro, we found our short stay in the Maddalenas time enough.
Strait of Bonifacio
From the Maddalenas, we first sailed west to enjoy some nice beaches on the north coast of Sardinia. All the beaches in this area are magnificent. The key is to go to the ones that don't have roads leading to them from land so there aren't many people. The more populated beaches are umbrella cities and the snack bars and loud music give them a completely different atmosphere compared to the hidden beaches that retain their natural beauty.
After exploring a few beaches and coves on the north end of Sardinia, we sailed northwest across the Strait of Bonifacio to the French island of Corsica. The 7-mile wide strait separates Corsica from Sardinia and divides the Mediterranean Sea on the west from the Tyrrhenian Sea to the east. The strait is notorious among sailors for its weather, currents, shoals and other obstacles. For Golden Glow, the winds brought us excellent sailing conditions.
Corsica
Approaching the southern coast of Corsica, you have to be careful to keep your eyes open, follow channel markers and your charts to avoid the hazardous shoals and rocks extending far out into the strait. Along the whole southern coast, there is only one harbor you can pull into for shelter if you need it. The harbor is called Bonifacio and it is dramatically positioned at a cut in the coastline of chalk-white, 230 ft high, limestone cliffs.
The city of Bonifacio is split into two sections. The old town is set on a promontory overlooking the Mediterranean Sea and the upper or high city is opposite that. The city and its fortifications also extend for some distance along the edge of the cliffs, which have been undercut by the ocean so that the buildings appear to overhang it.
We would have liked to spend more time here too, but we had to get Joanne back for her flight back to the States, and then get to Rome to pick up Savannah and Hunter. Sardinia remains high on our list of favorite destinations and a place we look forward to returning to for a longer stay.