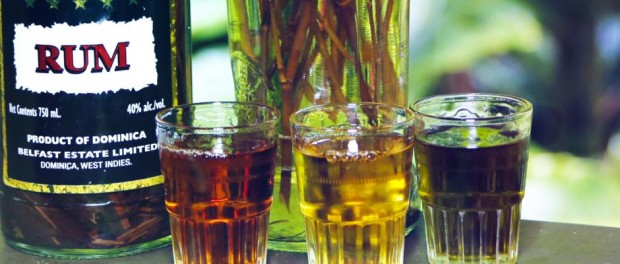 Our guests on Golden Glow tell us their favorite boat drink is Rand's Monkey Madness, made with his secret recipe that will knock your socks off, flavor-wise and otherwise. (You'll have to invite us for a sundowner or join us for a cruise on Golden Glow to experience it : )
Another popular Golden Glow boat drink is a Painkiller, which we first enjoyed in Cane Garden Bay, Tortola. The name may be subject of a legal battle but we feel safe sharing the recipe:
Golden Glow Antares 44i Painkillers
2 ozs of dark rum
4 ozs pineapple juice
1 oz coco lopez cream of coconut syrup
1 oz orange juice
topped off with a layer of gold rum &
freshly grated nutmeg on top
Rums Around the World
We've learned a bit about liquor since setting sail. When it comes to rums, there are none better than in the Caribbean, and once you leave the Caribbean, you can only buy the well-known exported brands. But in the Caribbean islands, many small "vintage" rums exist that you won't easily be able to find outside the islands.
For example, Martinique produces only Appellation d'Origine Contrôlée (AOC) rums. Translation? Martinique's rum standards are so high that the French government monitors its products using the same type of strict guidelines it has for Burgundy wine or Roquefort cheese. Distilled from pure sugarcane juice, Martinique's rhums agricoles have complex, multi-layered flavors, and range from the delicately spiced Saint James Royal Ambre to clear and crisp Clément Blanc, which is aged for eight years and has a sweet aftertaste with subtle flavors of caramel and nuts.
Another special Caribbean rum is English Harbor 1981 rum from Antigua. It is aged for 25 years in whiskey and bourbon barrels until it acquires a woody, smoky flavor of roasted nuts, fruit and cinnamon. It costs about $230 a bottle.
No matter what your liquor preference, if you're entering the Mediterranean, stock up in Gibraltar. The prices are cheap and the selection is excellent.
When it comes to drinking liquor neat, who doesn't appreciate a good, 18-year aged Flor de Caña Centenario (or in Ellen's case, this delicious coffee made with its flavor).
Home-Infused Rums
But when you're a liveaboard regularly hosting sundowners it's smart to make mixed drinks with a more economical rum, especially when it's a Painkiller or Monkey Madness, where the flavor of the rum is masked by the fruit juices.
But how economical do you go? We were using the standard, store-bought rums for our mixed sundowner drinks until we toured the island of Dominica. There we stumbled on a sweet old lady selling her homemade rum…for $10 a gallon, packaged in recycled Tampico orange juice jugs.
Our guide, Sea Kat, told us her rum was agricultural rum. At first I wondered if that meant it was made for tractor fuel. Actually, agricultural rum turns out to be the "good stuff," as distinguished from industrial rum. So we gave it a try.
The rum lady, whose shop was high up in the inland hills of Dominica, served a selection of her rums at a walk-up counter, each made  number of infusions from herbs to fruits.
With one of the jugs of her rum, we decided to try making our own infusions. In St. Martin, we had become fans of the Ma Doudou flavored rums. Our favorite was banana-vanilla rum, which made a regular Caribbean boat drink extra delicious.
So, we decided to take some of this Dominica homemade rum, and add vanilla and bananas, let it age, and see how it turned out. Not bad!
We also experimented with ginger and cinnamon infusions, but the banana-vanilla was the definite winner.
Golden Glow Antares 44i Spiced Rum
We also made a spiced rum that was a big hit.
Spiced Rum Ingredients
1 liter of Dominica homemade rum
1 vanilla bean, split lengthwise
1 cinnamon stick, chopped
5 whole allspice berries
5 whole black peppercorns
1/2 star anise licorice
1/8 tsp grated nutmeg
3 2-inch pieces ginger
2 3-inch strips orange zest
Mix all the ingredients together and pour it into a glass bottle to age/infuse. A couple of weeks is a good length of time. Warning, once you start drinking this spiced rum, it won't last long!