Mustique in the Grenadines – a "Fantasy Island" Fit for Royals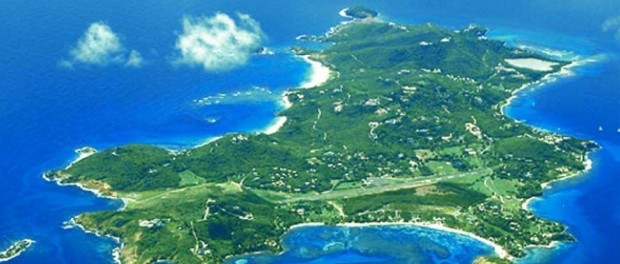 Mustique is a gorgeous island in the Grenadines in the southern Caribbean. We sailed there from Bequia after dropping off our friends who had been with us for three weeks, and after taking care of some boat work.
You may have seen the video we posted of our sail to Mustique. We had great winds and a wonderful, brisk sail.
Mustique intrigued us in part because of its reputation for exclusivity. The 115 acre island is privately owned, controlled by a company that is owned by the residents of the island.
There are about 100 residences on the island and only about 500 full-time residents. Musician David Bowie, who had an Indonesian-style home built there, described it as a "fantasy island."
Had we arrived there a week earlier than we did (in March 2015), British royals William and Kate would have been on the island, and our commoner movements would have been drastically limited. We also would have been relieved of our cameras during our restricted shore excursions.
Most places in the Caribbean that are not marine parks do not charge for anchoring, but on Mustique there is a 200EC ($75USD) fee to anchor in Brittania Bay for three nights. We decided to visit Mustique and see for ourselves what the appeal was.
Mustique does stand out from the whole rest of the southern Caribbean as being the cleanest island we visited. Even the taxis are impeccably clean, and they actually recycle!
Mustique seems to have no crime because the population is so controlled. No one seemed to lock anything – a very welcome opportunity to breathe easy compared to most of the rest of the Caribbean where crime has become a significant hazard.
Mustique is known for great dining in its restaurants and great music in its club. One music/dining establishment, called Basil's Bar, has an international reputation and is famous for being a place that Mustique homeowners like Mick Jagger or frequent visitors Eric Clapton or Sir Paul McCartney have been known to grab the mike when they are on the island. You can bet that we were hoping against hope that might happen while we were there!
We timed our passage to Mustique to get us there for the weekend so we could have some play time and check out the music and club scene. We went to Basil's first during the day and then went back for "locals night" musicale on Sunday's.
We didn't catch any music royalty at Basil's, but we heard a talented couple play delightful jazz on piano and saxophone, and joined the locals, from the grandparents down to kids, who hang out, dance, play mahjong and scrabble at their tables with game sets they bring down to Basil's from their villas in the hills. Oh, and the musical duo had a dog that would howl to certain songs.  Very comical!
Basil's is set on the water overlooking Brittania Bay so the deck gave us a glorious view of Golden Glow and the sunset. The drinks and food are decent but ordinary, and of course more costly than most other places in the southern Caribbean, save for PSV or Palm Island perhaps. And we did observe a good-sized rodent run across the dance stage late in the evening. Was he running to escape paying his tab?
Mustique is also known for its well-stocked markets. They are very well provisioned, neat and clean. There is an adorable sweet shop, an upscale clothing boutique where even children's clothes are very expensive, Stanley's impeccable fruit and vegetable outdoor market, a purveyor of fine wines, spirits and other items to create an elegant cocktail party like foie gras and a small but well-stocked general store.
The market we liked best on Mustique was the fishmonger. It's in a rustic shack beside the bay. Outside, you will see fishermen cleaning their catch. Inside, the incoming fish is weighed on the left side of the counter, and you purchase it on the right side. If you buy a whole fish, you can pay a bit extra and they will clean it for you.
There was a pecking order however. A few of the fish we asked to purchase were already spoken for – by the restaurants or locals perhaps? We bought a beautiful Dorado and made several delicious meals around it.
One of the most enjoyable parts of our time in Mustique could have occurred there or elsewhere. Brittania Bay was windy as well as gorgeous and we decided it was the perfect conditions to try out our  SeaEagle inflatable Sail-Kayak.
First we took it out without the sail and enjoyed sunset from the kayak. Next, Rand set up the sail on the kayak and took it for a ride to be sure I could handle it. Then, he let me give it a go, standing by with the dinghy in case I got too close to the reef near shore, or Portugal…or wherever the next port would be if I was swept out to sea.
We discovered one further use for a dinghy rescue – kayak capsizing. The kayak was fun from the get-go, but took some getting used to. As my comfort level increased, so did my speed and the degree to which I heeled. The wind was quite gusty and strong, and the kayak is stable, but because you're out of the water on two pontoons, it's center of gravity is a bit high. My port-side paddle-keel was not all the way in the water and it didn't take long before I miscalculated wind and capsized.
I swam around to the lee side and pulled myself up on the bottom to try to right the kayak with my body weight, but I was unsuccessful. Okay. This is going to take more practice! Happily, Rand came out and helped me right the kayak…and off I went for more fun.