Thinking About Weather, Gulf Stream and Planning Our 1,000 mile Offshore Passage to Turqs & Caicos
In a few weeks time, after Thanksgiving with our family, we will return to the boat and push off from Charleston for warmer weather. Our friend, Jack, is joining us for the voyage, so we know we're going to have a ton of fun. In preparation for this offshore sail, we've been studying navigation and weather and finishing our list to prepare the boat for being away from the USA and its conveniences.
Depending on sailing conditions, our hope is to sail straight either to Turks & Caicos or to Culebra in the Spanish Virgin Islands just east of Puerto Rico.  If weather reasons conspire against us, we'll stop in the Exumas (Bahamas) first. Jack is thinking of flying home from Nassau or San Juan.
Watching weather – even now – has become a big preoccupation. We've also hired two services (Commanders Weather and Chris Parker) to back up our own weather work from GRIB files and NARC weather router and help us chart the best course.
When we were in a seminar from the Annapolis Sailing School at the boat show last month, the instructor said that leaving in early December was not ideal, and cautioned us to consider going south inside of the gulf stream to Florida and then push over to the Bahamas.
We've been paying a lot of attention to the weather, sea temperatures, currents, far-off depressions when they start, and gulf stream flow, among other things. We don't want to have the experience of the ARC Caribbean in 2011 when they sailed through 34 to 45 knots and seas over 20 feet. One crew-member was lost at sea and two boats were abandoned.
We are paying particular attention to what sailors who have more time offshore have said about this passage.
Skipper, Bill Fraser-Harris, said: "I learned from other boats' experiences that it's vital to depart in a weather window that's appropriate to your boat speed. While a group departure has benefits, it should never outweigh your individual decision process."
"Each skipper must evaluate the weather data as it relates to his own capabilities, speed, and comfort level," said another experienced yachtsman, Heckman. "Resist making any commitments to deadlines."
Leaving directly from Charleston and heading out presents the problem that the Gulf Stream there is well offshore – too far for a reliable weather window.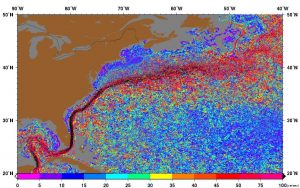 Here are the four routes that have been  for our navigation:
Route 1: Sail east to the latitude of Bermuda, then sail south to St. Thomas.
Route 2: Sail south-southeast until the easterlies fill in, typically somewhere near 65 west, then sail south to St. Thomas.
Route 3: Hug the coast to and sail inside the Gulf Stream to approximately Jacksonville, Florida, then head straight out across the gulf stream, then chart a course for the islands.
Doing further study, we have learned there are several schools of thought about whether it's better to punch through the gulf stream further north and sail further offshore, or take a more coastal sail to Jacksonville or Fort Lauderdale's waters before heading east.The advantage of heading as far south as Jacksonville inside the gulf stream is that there the stream is close to shore and quite narrow. We could cross it and be out the other side in 24 – 36 hours. I'm leaning toward this course.
We've also been advised to time our departure from Jacksonville so we leave 24 to 36 hours before the forecast norther arrives. Then, we sail east until the norther dies, then reef your sails before the norther hits and ride it easter. Then, as the norther dies out and easterly winds fill in, it's hard on the wind on a port tack to the islands It's likely to be sailing into the easterly winds, and island hopping through the Bahamas and Greater Antilles, but it's an attractive alternative to the risk at that time of year for unpredictable and extreme weather in the straight shot across the open ocean route.  encountering depressions, low's and large seas.
A
nother option is John Kretschmer's well-worn route to the Caribbean which is working east of the island of Eleuthera and then drawing a rhumb line to St. Thomas. Then the passage would continue on what  Bruce Van Sant's (author of The Gentleman's Guide to Passages South) calls a "thorn-less path" out to the islands. If we do follow Van Sant's route, we also have to consider where we will check in to the Bahamas. We have heard from many fellow cruisers that Nassau and Freeport are not places you want to linger, or leave your boat unattended. Some advised checking in at Bimini, where they always had a quick, easy, friendly check-in. If we were to follow their advice, a coastal trip to Fort Lauderdale, and then a short sail east, would be the easiest.
There are other places to check in like Marsh Harbor/Hope Town in the Abaco's, which would allow us to skip Nassau and Freeport entirely. We do want to check out the Land & Sea Park in the Abaco's, so we are giving this route getting serious consideration too.
Another weather forecaster/navigator we listed to was Don Street whom we talked to at a navigation and weather course we took at the Annapolis boat show.
"Wait until a norther is predicted, and take off 24 to 36 hours before it arrives. This will get you across the Stream. Shorten sail before the norther hits and ride it eastward. As the norther dies out and the easterly fills in, it's hard on the wind on port tack. Then see where you make your landfall, at either St. Thomas, the eastern end of Puerto Rico and the Spanish Virgin Islands, or the western end of Puerto Rico."