An Annapolis Institution – and I don't mean the Naval Academy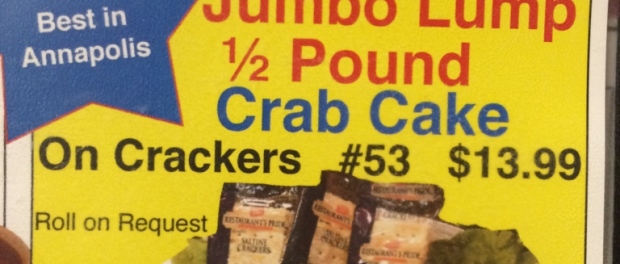 Chick & Ruth's Delly
was a stone's throw from Golden Glow, just up Main Street from the City Dock. We knew it must be good when we walked by because there were lines out the door, people waiting all around the sidewalk to be called in, and it was bustlingly busy inside
Ted Levitt just celebrated his 49th year of working at the delicatessen, and he is only 58 years old. His father, "Chick," bought the shop when Ted was 8 and in second grade. A few months later, Chick had his first heart attack and was out of work for six months.  Ted would get up and get to the deli when it opened, then go off to elementary school, and return and work all night until closing time.
We ate breakfast there on Saturday and Sunday and were lucky to be there for the reciting of the Pledge of Allegiance, which happens without fail every morning as a tradition started by Ted's parents.
Many sailors from the Naval Academy frequent Chick & Ruth's and all patrons must stand up and recite the Pledged, so you're beside sailors in their white uniforms and hats, all of you with hands crossed over your hearts, looking up at the flag while Ted leads the recitation on his PA system. You can't help leaving the deli feeling more patriotic than you did walking in.
Chick & Ruth's Delly had the best crab cakes Rand and I have ever tasted. Lots of lumps of super-fresh crab, so delicately delicious that we ate it three times in two days!
Honorable Mention goes to the Farm Fresh Market that set up immediately adjacent
to Golden Glow on Sunday morning. How lovely it was to awaken to the sight and smells of fresh vegetables, apple cider, apple butter and jams, home-baked goods, even wine, right next door.