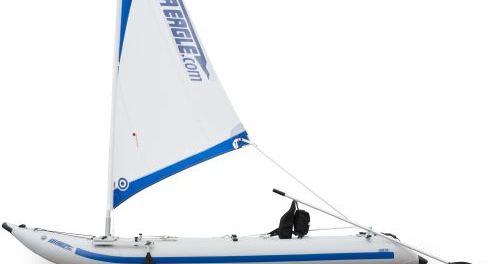 Rand and I had our first kiss way-back-when on a kayak, so you can imagine that having a kayak on board Golden Glow is a given…but what kind?  Which type best balances weight and space considerations with performance, versatility and price?
Rand's kayak is a hard rotomolded plastic, sit-on-top tandem model, similar to this style = >

Hard kayaks are virtually indestructible and tend to be faster and easier to keep on course than inflatables, and they are wonderful when you're in one place, ready to play.
Many people strap a hard kayak to their stanchions or leave it in the water, tied to their boat. But since we're circumnavigating, we spend a lot of our time on-the-go, sailing, and on passages. For those times, we'll want to stow our kayak away, and that's not easy to do with a large, hard kayak – especially when we already have surfboards, a Brownie snuba, paddleboard, parasailor, spinnaker and other things stowed away.
As you can see in the photos of the purple kayak to the left, when we were biking in East Hampton this summer, we came across a unique hard style kayak that folds into three pieces (notice the horizontal breaks in the kayak). But this kayak still would take up more room than we'd like when it was being stored. It sells for $1,099. If you're interested in buying this unusual kayak, called the Point65Rum Runner, contact Alexander Eberle at the Maidstone at Alexander [at] themaidstone [dot] com
For these reasons, an inflatable kayak seemed to be the right choice for us. When it comes to inflatable kayaks, there is a big difference between the quality of inflatable that is really a beach toy, and the kayak that will hold up and last for many years.
Another consideration in choosing the right kayak for us was to maximize our small boating fun in one kayak. This meant that ideally we'll be able to fish and snorkel from and sail on our kayak in addition to paddling it. We also gave strong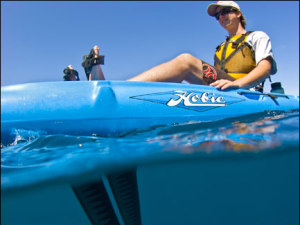 consideration to the hobie peddle-powered kayak that we saw first at Strictly Sail in Miami, and then at the Sailboat Show in Annapolis this fall = >
In the end, one kayak stood out above all others for the considerations that were most important to us, and that was the Sea Eagle Paddleski with sailing package, shown below.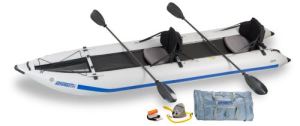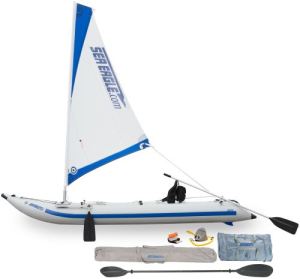 This is a unique kayak. It has more of pontoon sides than an actual kayak frame. Consequently it is very versatile and makes a perfect fishing platform. Sea Eagle even offers the option of adding a small motor to this kayak (which we did not want) as well as a high-back swivel chair with built-in rod holders, the option to add on rowing oars, or even a sail rig (which we did get).
When we get to Culebra, we hope to have time to inflate the kayak and get it in the water and I'll update this post with photos and videos to show you how the Sea Eagle performs.