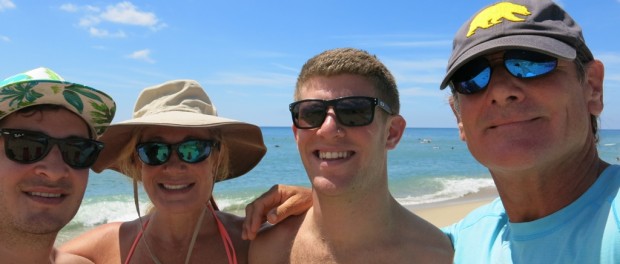 What a delight it was to return to Nantucket again after spending so much time there when I was a teenager. We were in New York spending time with Mom/Grandma but we slipped away for Saturday and Sunday to spend time with two of my sons, Tim and Rob.
We hadn't seen Robby since his graduation in May, and he'd just started in his first job after college, so there was much we wanted to hear about.  Rob lives in Boston so Nantucket was a good place to meet up for some good family time. Tim was able to get away for the weekend from his normally very busy life in New York to join us too, which was wonderful. We missed the rest of the kids, but were grateful for this time together with Robby and Tim, a reprise of the time the four of us went to South Africa, Zambia and Zimbabwe a few years ago.
On our first day we went to Cisco beach, which is the best surfing beach. The waves were pretty small, but that didn't keep Rand, Tim and Robby from enjoying getting back on surfboards.
We also played a lot of football and kadima on the beach, and backgammon/acey-deucy and read books in our beach chairs when we weren't in the water, which was refreshingly chilly.
I rented bikes for all of us that were delivered to our Inn, and I had bought four folding chairs that we could carry as backpacks and had them sent to the Inn before we arrived. The backpacks had large pouches for keeping all we needed for our outings: beach towels, suntan lotion, games, sport stuff, extra clothes, food and drinks. At the end of the weekend, I sent them to San Diego for use by the people renting the house there.
After Cisco Beach, we biked to Cisco Brewers for an afternoon of music, adult beverages and lobster rolls.
On Saturday, we had a late dinner scheduled so we had time to hit a bar where the boys worked on developing their palates by trying "flights of whiskey" – samplings of three kinds of whiskeys in very small tasting glasses. We sipped them too and it was very interesting how different each one tasted from the other.
We also did our share of sampling the local homemade ice creams. Of course we went to the Hub, which I still remember fondly from the summers I spent going on Nantucket vacations with my family. Our favorite ice cream was from the Juice Bar, near the Straight Wharf.
Nantucket had a cold and wet winter, which was hard on locals at the time, but made for a spectacular display of flowers in the summertime, especially hydrangeas. This was Rand's and my second island overflowing with  hydrangeas this summer because in the Azores, the central parts of the islands have miles of hedges of hydrangeas too.
Sunday we did more of the same, spending a full day having brunch then taking a long bike ride around the island before flying out on a 9-person plane that flew low enough that we were able to get a good appreciation for the scenery of the area. We dropped Robby off in Boston then caught a larger plane back to NYC.
Soon, it will be time to head back to Rome where we left the boat. This sign in Nantucket was helpful in telling us that it's exactly 4,654 miles away.