Trampolines – Out with the Old, In with the New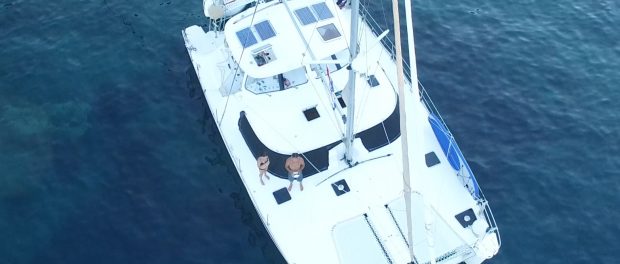 Why Catamarans have Trampolines.
Have you ever wondered why there are open-netting trampolines on the front of a catamaran rather than fiberglass decking between the hulls? Ted Clements, the brilliant designer of the Antares 44i catamaran, explains the reasons:
Safety: You want to keep as much weight out of a cat as possible, especially at the ends so the boat doesn't hobby horse or worse, pitch-pole. Trampolines don't catch much air and they create a large area of deck space with minimal weight and maximum drainage.
Access: trampolines provide safe access to the crossbeam, ground tackle, forestay and bowsprit.
Comfort: tramps are a joy to lie on with the air and sound of the ocean coming up from underneath.
Trampolines and the Elements.
When we bought Golden Glow, her trampolines were in decent shape, probably because the prior owners had used her so lightly over the four years they'd owned her and the fact they had covered her when she was stored on the hard to protect the deck from the sun. But now, 2 1/2 years, four continents and 25,000 miles further on, it is time for new trampolines.
We had our new tramps made at Turbulence in St. Georges, Grenada, under the masterful direction of English and French-speaking Joelle Syzjan. Turbulence is an excellent service outlet for sail repair, rigging, and trampolines. They come to your boat, make a template, then fabricate the new trampolines back at their sail loft at Spice Island Marina. Important to us, they were willing to use special Gore Tenara thread that stands up to the elements. It costs many times the cost of polyester thread, but it lasts many years longer under the punishing rays of the sun.
Design Criteria
Here are the ideal features of trampolines for catamarans, again courtesy of Ted Clements:
make the deck/tramp interface flush and free of trip hazards
use construction methods and materials appropriate to the vessel's use e.g. ultra-light and bouncy may be appropriate for sunshine boats or lightweights when your joints are still young but do you want to be negotiating such a surface when dealing with foredeck issues in a serious blow?
make the installation as clean and elegant as possible for best aesthetics and easy maintenance/inspection
note that tighter lacing and less elastic materials increase the catenary loads on the surrounding structures and fittings
the crossbeam, anchoring and mooring provisions as well as the  lifeline arrangements are integral to the design, we should include them in the considerations
for the tramps on Antares catamarans!