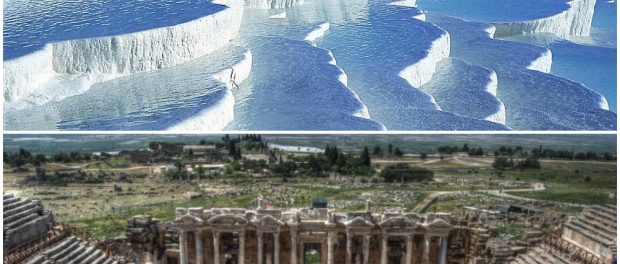 Pamukkale Thermal Pools
Pamukkale, which means "cotton castle" in Turkish, is a World Heritage Site located inland north of Kas and east of Kusadasi. It is notable for its white landscape of travertine terraces made of a sedimentary rock deposited by water from the hot springs. After leaving Ephesus, it took us a few hours to drive to Pamukkale. Along the highway, we and most other cars were pulled over by police at a checkpoint where we had to show our identification. We welcomed the way Turkish security is taking these steps to keep its most famous tourist destinations safe.
In the Pamukkale area, there are 17 hot water springs. We stayed at a hotel that sits on top of one of them and has outdoor thermal hot spring pools that offered us a wonderful way to relax. In ancient days, these springs were made into natural healing pools.
When the springs bubble up to the earth's surface, they are supersaturated with calcium carbonate. Once they emerge, the springs let off the carbon dioxide and deposit the calcium bicarbonate. The depositing continues until the carbon dioxide in the water balances the carbon dioxide in the air. Calcium carbonate is deposited by the water as a soft substance, but over time it hardens into travertine.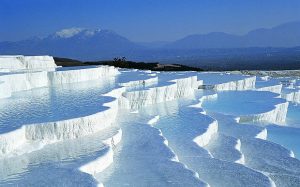 Ancient Ruins of the City of Hierapolis
What drew us to Pamukkale were the travertines, but we discovered the ancient city of Hierapolis, especially its ampitheater high on a hill, was one of the best ancient sites we found in all of Turkey.
The name means "sacred city" reflecting its large number of temples. The city dates from the 2nd century BC.but most of the ruins date from the Roman period instead and are spread out over a large distance, giving us a full afternoon's trek to see it all.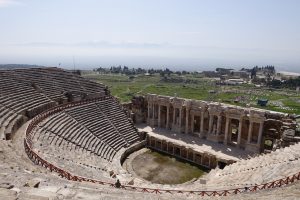 Cleopatra's Pool
One pool at Pamukkale is called "Cleopatra's Pool" because legend has it that the ancient queen would bathe herself in its waters on her travels away from Egypt. Most likely the legend helps support the success of the restaurant, admission fee, and arcade games placed around Cleopatra's pool.
Pamukkale Hierapolis Archeology Museum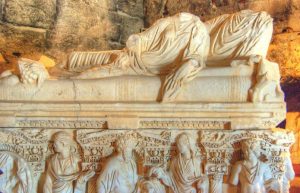 The museum at Hierapolis offers three rooms and gardens and displays artifacts from the ancient Hierapolis and also Aphrodisias and Laodicia.