Mediterranean Water Wonderland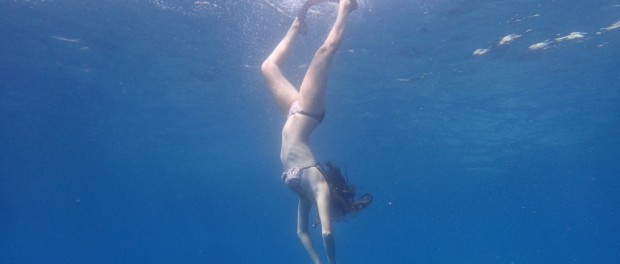 A good amount of Hunter and Savannah's summer vacation on Golden Glow was spent in the water. From Rome, we sailed to
Palmerola and Ponza, which are part of the Pontine Island archipelago in the Tyrrhenian Sea. Ponza is supposedly named after Pontius Pilate and has a rich history. Another of its more recent claims to fame is that Mussolini was exiled there. What we liked about it was that it was near enough to Rome, but far enough away that the water was crystal blue and about 85 degrees. With the air temperature reaching 90+ at midday, the water was the place to be.
We anchored on the leeward side of Ponza for the sake of Savannah, who gets seasick when there is much swell. We discovered excellent anchorages close to the main town, but out where the water was clean and clear and we could go kayaking without getting ferry wash.
We took day trips to the windward side of the island. I wanted to see the famous Chaia di Luna beach, now closed due to the falling rock, but still regularly listed among the world's most beautiful beaches. The only way to get there is by boat, so we were able to come into the anchorage and admire the huge, crescent-shaped cliff and narrow beach. We also found remote bays on the windward side with rocky outcroppings to explore and jump off of. High jump award goes to Hunter whose voice is now an octave higher : )
Savannah gets the intrepid award for getting up before Dawn to explore with Rand. After a few nights near the town locals just call "Porto," we moved further north to a more remote bay. As we sailed around the island, we noticed a beautiful cove with a huge stone arch at the back end, near but not touching the coast. It turns out the arch, called "Arco Naturale" is famous.  Savvy and Rand got up before dawn one day to kayak through Arco Naturale, and were rewarded with an epic sunrise.
To read much more about the history and current state of affairs in Ponza, go to this link. The island is a hotspot for the rich and famous, but locals are friendly and relaxed. The front of the harbor is lined all the way down with fishing boats. Restaurants print their menus only in Italian (indicating that there's not as much non-Italian tourism here).