Turks & Caicos to San Juan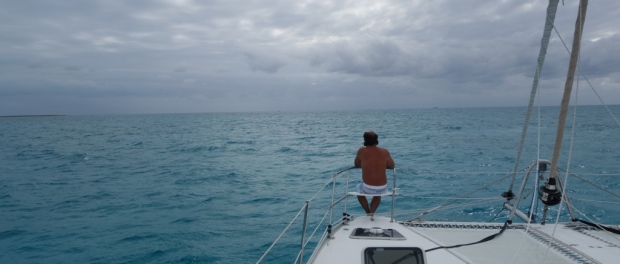 We're back in the USA for the holidays and work projects now, and missing Golden Glow and the warm Caribbean water, weather and lifestyle. A good time to remember our cruise from Turks & Caicos to Puerto Rico.
We left our cozy marina on the south side of Provo on Turks & Caicos and instead of going back through the Sandbore Channel, we sailed south across the shallow Caicos Banks toward French Cay, a protected wildlife sanctuary.
Turks & Caicos is known for its clear, shallow waters, fringed by coral reefs, and overlying white carbonite sands from the Pleistocene era. This makes for wonderful diving and snorkeling in crystal clear, turquoise water, but is not so great for taking a boat across.
Fortunately, we had studied our charts carefully and gotten good intelligence and waypoints from Bob at South Side Marina and other cruisers. Jack and I kept close watch on the front of the boat, one of us on each hull, and we avoided all the coral heads and rocks.
What's amazing about the Bahamian Islands and Turks & Caicos is that once you get past the shallow sandy banks, the sea bottom drops as if you've fallen off a cliff…and I guess if you were walking on the ocean floor, that's exactly what would happen. Our depth reader went from 10-20 feet of depth to so deep that it read "- – -" meaning too deep to give a read-out.  Instantaneously.
Our passage to Puerto Rico from Turks & Caicos took us over the Puerto Rico Trench, a special area geologically that is set up for earthquakes and tsunamis. The trench is 497 miles long and has a maximum depth of 28,373 ft or 5.373 miles at Milwaukee Deep, which is the deepest point in the Atlantic Ocean and the deepest point on earth's surface that is not in the Pacific Ocean.
We made it to Puerto Rico uneventfully, although heading almost directly into the trade winds wasn't the easiest sailing. We sailed through the passage between Hispaniola (the island of Haiti and the Domincan Republic) and the wind pushed us ever closer to the island. By the time we reached the end of this long, mountainous island, we were almost in the Mona Passage, known for its strong currents and turbulent weather.
We had originally planned to stay on the west coast of Puerto Rico, where the surfing is good, and I had a work colleague we were going to see. But because Jack's flight from San Juan was at 6AM, we decided to go there for convenience and leave the boat in a marina while were back in the USA. We had a chance to clean and tuck Golden Glow in for a few weeks Christmas rest, explore Old Town briefly, have some tasty Chinese and Mexican dinners out, and then it was back to the mainland for the holidays. Next stage of our travels: Aria joins us in January and we'll sail from Puerto Rico to Culebra and the Spanish Virgin Islands, perhaps the BVI, St. Croix, St Martin and beyond.