TOP TEN Mobile Sailing Apps when "Underway" – Updated 2017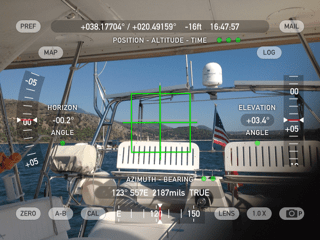 2017 Update
It's been two years since we posted our favorite Top-10 Apps and with another 20,000 miles of sailing, and passages across the Atlantic, Pacific, Caribbean, Mediterraean we have come to appreciate new apps we want to share with you. So, here's our Updated 2017 Top-10 Apps for Underway Sailors:
Weather Apps:
Weather4dPro (which we prefer over Weather 2.0 for ease of use). We can create saildoc file requests very easily on passage, and send them to our Iridium GO to download and bring in as a grib file, which we then can import into Weather $D or Weather Track or Offshore
Squid Mobile for viewing via our Iridium GO! Squid's strengths are seeing currents better than on PredictWind Offshore and most importantly, being able to pinpoint the weather window, even days out, and download just that, rather than being limited to downloading from today forward. This saves a lot of time/data on Iridium and lets us look at weather in alternative areas we might be thinking of heading for – or no
PredictWind Offshore. Still a good resource. Just a bit harder to use than Weather 4DPro.
Communication:
Iridium Go and Iridium Mail are our primary communication apps when we're on passage away from shore and cell or wifi. They also bring in news and let us send updates to twitter and facebook (we can send photos too but they come out fuzzier than we like via the iridium because the file size is so small).
News:
Opera Mini lets us save data by searching in a data concise way. We also use Treatise.net and GoogleWebLight
Navigation Apps
Navionics, INavx, and MaxSea are the main apps we use for Navigation to supplement Golden Glow's built-in Furuno charting system
YIT Navstation, which is Yachts in Transit and requires joining, is another good app to check out.
Constellation Apps
Night Sky
Star Chart
Skyview Free are great for watching the night sky both for stars, planets and even satellites or spacelab, which passed above us so clearly in Tahaa that it looked more like a drone than something in outer space.
SkyMoon Plus for charting where we are in the moon cycle
* * * * * * * * * * * * * * * * * * * * * * * * * * * * * * * * * * * * * * * * * * * * * * * * * * * * * * * *
Golden Glow's TOP TEN "Underway" sailor apps for cruisers:
When I started on this post I was hopeful I would be able to share just 10 sailing apps. After all, Ellen and I have experimented with over a 100 mobile sailing applications to find the ones we like best.  We kept narrowing and refining our list to the best of the best.  But in the end, we realized we use many more than ten.  So I decided to create two TOP TEN sailing apps lists, one for when we are preparing for a passage or when we are actually underway, and a second for when we are at dock, anchor, or ashore.
This post lists our favorite cruisers mobile apps for preparing or being "underway".  The "At Anchor and Ashore" TOP TEN list adds another ten to the apps list. These both are a continuation of the first TOP TEN post on Sailor's Gear.
Without further ado…
Golden Glow's TOP TEN "underway" sailing apps for mobile devices:
#10 NightSky: this app shows you the nighttime sky complete with stars, galaxies, constellations, planets, satellites and the space station.   Great for the no-moon night passages and on the beach after the bonfire has died down.  (look down with the app and it gives you xray vision to see what is about to rise or already set: you can see the other side of the planet) Android   iOS  Yes I know most everyone already has this, if you are the one person who does not, how stoked are you now?
#9 Theodolite: This is a high-powered version of Compass Eye. A compass binocular with inclination and some cool lens filters.  It's nice to have a compass binocular in your pocket for those times the real binoculars are inside the Salon.  This is actually a good alternative because you can align the image without having to sight through binoculars and with the click of a button you can save the image (with bearing and azimuth) onto your hand held photos.   Possible uses include quick double check on approaches,  anchor sightings and the occasional deviation check on the helm compass. You can also use it to determine distance if you have a known height you are sighting to.  Of course where you need more exact reads, the use of the compass binoculars rules. Not just a fine sailing app, also great for cross country hiking, skiing and orienteering.  $3.99 as of Aug 2015 (add-ons are extra).
#8 Boating Calcs: This is an excellent collection of calculators and informational libraries for marine use. Calculations include distance to visible objects and weight of liquids. For example our full diesel weighs 1,027 lbs. If we transit with ½ tanks and no spare fuel we drop almost 700 lbs of weight. For water if we run both tanks at 1/3 full we drop 834 lbs for a total savings of 1534 lbs lighter vessel! A case of 16oz beer is over 25 lbs in liquid weight,  so… we could reload with 600 cases of beer and be net positive on weight. Did you know a 6" hole 3 feet below waterline floods 1224.72 gallons per minute!  If you are even a partial nerd this calculator will keep you entertained.  600 cases… really!  (Golden Glow TOP TEN Sailing App Honorable Mention: Boater's Pocket Reference by Double Dog Studios: loads of calculators, reference materials, some dated, but a great addition to have in your pocket at all times. Ignore the 2009 currency conversion table 🙂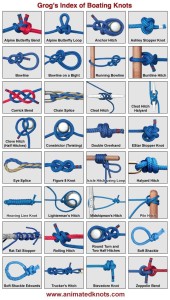 #7  Animated Knots by Grog:  How long has it been since you last used that marlin spike?  Tied a chain splice lately? Animated Knots has great instruction on how to tie many, many knots, from decorative to whipping.  It is an app that I ask our guests to download and check prior to boarding.  I ask that they know the cleat hitch, clove hitch and bowline prior to arriving on Golden Glow.  These are our must know knots. Something to do on the plane with a shoe lace or the cables on one of those headphone they give you.  The "icicle hitch using the end" is extra credit and great for unweighting a tangled winch.  Yes, time on Golden Glow does have homework but the milk and cookies afterwards will make you smile.
#6 Ship's Log: So this one is perhaps the least used of the apps in our TOP TEN because we just started using it. Cool features: includes lots of detail automatically: date, time, lat, long, distance from last log, location, GPS accuracy, SOG, bearing, and if we're online, we get weather & surface condition data too. Also allows you to include: free form text, pictures, status of moored/anchored/underway, engine hours, battery charge, fuel and grey water levels. To make all of this data worth a damn you can export (via email or iTunes) SQL data, KLM (google earth), PDFs and CSV files. The PDFs can include pictures. It also can tweet updates if desired.  I am excited if for no other reason than the ability to log pictures of harbors and the trip in general in the form of a ship's log as well as having a history of speed on the shorter passages where we do not do the hourly logging we do on the longer passages.  Yes, we will still keep the two other logs we maintain: maintenance logs in excel and ship's log in paper book form. But Ship's Log appears to be an addition well worth its cost of $4.99. UPDATE: have been using this as a photo log for the ports of call and great views while cruising.  Cool having a photo log of our journey that has lat long, wind speed and many other data points.  Holding strong at #6.
#5  Aye Tides XL: this application is amazing in that it offers tides for the whole planet in an off-line mode. Okay, maybe not the whole planet, but 12,000 locations is a lot of the planet.  I have found that they are weak in the Med, slowly porting over the hundreds of European buoys 4-5 a day and the app appears to be doing the mid- and eastern-Med last.  Navionics tides includes locations that AyeTides does not have, specifically in the Strait of Messina where even the Greek Gods were taunted by tides and whirlpools. Aye Tides: 1 station, Navionics: 5 stations.  The XL is the iPad version of Aye Tides.  Beware of updates to the app; I have been caught off-shore unable to access the app due to a partial upload that did not complete.  Having said that, normally the 12,000 locations are available off-line, at any time, for only $7.99. (catch the rhyme?)
#4   Weather Track: Billed as the "Swiss army knife for weather enthusiasts".  This application receives a Predict Wind route and super imposes it on a grib file while tracing your actual real time progress.  Here are some features of this sailing app, as noted from the site:
#3 Predict Wind: This sailing application is excellent for helping determine best departure times and transit options. (note, to get departure and weather planning, you have to pay about $500 a year for the professional version, well worth it for our passages as we have not been using a weather planner.) Predict wind does a much more refined set of wind predictions that you can use for departure and course planning. The down side is none of them are GRIB compatible. Many of the departure and course prediction features are available in our PC-based MaxSea that integrates to our Furuno system, but it is sometimes nice to plan the next adventure over dinner or at a bar on a hand held.  It is also of advantage to see the differences between the four prediction models that Predict Wind uses and the models used by our other prediction applications.  (in fairness, we could take our tablet with MaxSea into a bar, it just seems we leave it on the boat and take the iPads instead). It is worth noting that all of these prediction apps: PredictWind, MaxSea, Weather4D Pro, etc depend on quality wind polars specific to your boat, or at least to the boat model.  Without those, the data goes out the window after the fist several hours as you most likely are ahead or behind the predicted location. We're lucky that PredictWind incorporates an Antares 44i polar already, and the app lets us select any percentage multiplier of the polar (e.g. we can plan as if we'll go any % as fast as the average Antares 44i boat).
#2  Weather 4D Pro: This is probably the best weather app we have found for general use, mainly due to the excellent graphical display.  Downside: the user interface was not intuitive,  hence it is worth the time to read the manual.  (They use a three zone touch display for differing actions.  Guess that one?)  Functions worth mentioning include: =multiple ways of getting your grib files, existing email, xgate and iridium mail, =ability to send/share grib files, good if you want to share data to other devices if you do not have another form of file sharing, =forecasts up to 10 days and as detailed as .25 degrees for weather and .0625 degrees for currents, = ability to create and save weather "zones" so you can save queries, =ability to save and manage weather files, =availability of period on wave forecasts (one of the only places I have been able to get that all important indication of the shape of the seas).  This is a great planning tool and we use it as backup to the MaxSea integrated weather tool set. Cost was a little over $34 last I checked.  Lower cost weather app alternative is Pocket Grib, an app we load with data prior to each passage. So we give Pocket Grib and PassageWeather Golden Glow TOP TEN sailing apps honorable mentions. Also honorable mention to PassageWeather.com, not an app, but we download its wind, wave and pressure files for our passages.
#1   iNavX / Navionics: Ah, the debate continues as to what to use.  The iNavX is the clear leader in terms of overall functionality in my opinion (open NEMA interface, waypoint data exchange) with the exception of the user generated content data that Navionics has.  Having said that, Navionics is our go-to alternative for navigation while in the Med if our main systems fails. Excellent user interface and great depth of information.  Also worth mentioning is iSailor another excellent charting, navigation and plotting app.  I had wanted to include them each on their own number but just was not enough numbers in 10.  We have used many more than these three,  but find that these are the top three for us.  I would say our selection depends on what part of the world we are in. Here is an old 2013 comparison of Navionics to iNavX.  The Navionics now offers integration into a select few NEMA systems.  Furuno is not on the list.  Enjoy the debate.
A couple of notes on the apps:
We run iOS and Android so these all will work on one and/or the other of those operating systems.
There are some versions of these that are free, most cost something,  check for pricing.  For us, all shown here have proved to be well worth the cost.
Some of the apps require chart data,  this can cost extra or use additional services.
At least one app "AnchorWatch" by Lukysoft can require third party SMS services. These cost extra.
DON'T leave the safety of your boat to a mobile device, for navigation be sure you have paper charts and know how to use them, for reference materials have the books you need on board.  Lighting can strike.
On Golden Glow we run a dual display Furuno NavNet system for helm navigation, charting and plotting. At the nav station we have a Furuno integrated PC based MaxSea backed up by a couple of mac based OpenCPN systems.  These all take grib files and a variety of chart types.  The apps listed here are backups to the backup OpenCPN, that backs up the Furuno and Max Sea combo. Though we actively use the iNavX/Navionics more than the OpenCPN.
For what it is worth, these sailing apps fall under a few rough categories:

Navigation,
Plotting/charting,
Weather,
Entertainment/education.
The Navigation and Weather apps require getting data online, so if you do not have offshore internet access, you will need to populate data on those apps prior to departure.

Other apps Golden Glow has

checked out similar to this top ten list:

#9 Theodolite: Compass Eye
#8 Boating Calcs: Boaters Pocket Reference, Captains Toolkit (busted)
#7 Animated Knots: Knot Guide HD, some knots in the Boaters Ref too.
#6 Ships Log: Saild
#5 Aye Tides: Marine Tides Planner
#4 Weather Track: (see Predict Wind)
#3 Predict Wind: Weather Track, GeoWind
#2 Weather4D Pro: Pocket Grib, Marine Weather, Intellecast HD, NOAA Weather, Geo Wind, WeatherMap+, Hi-Def Radar, My Radar,
#1 Navionics / iNavx / iSailor: SeaNav, SEAiq, iSailGPS, Skipper Free