Catamaran Sunbrella Sunshade
To get ready for the South Pacific, we had a sunbrella sunshade made that covers the whole front of Golden Glow, reaching all the way back behind the mast to cover the salon roof. The shade keeps the inside of the boat so much cooler, and creates a whole new dimension to living space on the boat.
Having a covered foredeck, salon roof and trampoline area has given us a sense of having twice as much room on the boat. The feeling when you are standing on the deck under the awning is completely different from when the space was open. It somehow feels much larger than it did uncovered.
Making the cover took a good amount of design and engineering work and many fittings, but the effort was worth it. We love the results!
Canvas Maker
We highly recommend our canvas maker, Sunshine Canvas, in Grenada. They were meticulous about getting the design and fabrication perfect, and excellent in communications, punctuality and value. Sunshine finished our sunshade only nine days after the 44 yards of sunbrella fabric arrived in Grenada.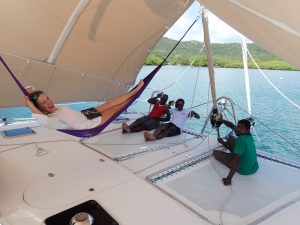 Big thanks to our sister ships, Mark and Sarah of Field Trip and Seathan and Audrie of Rehua, for their design notes on their own canvas coverings. Their tips and notes helped our design process and fabrication enormously.
Like Field Trip when we relax in our hammock under the sunshade, it feels as if we are in our own, private spa!
We also enjoy sitting in our deck chairs, enjoy the view and the breeze, even when it's raining.
Another favorite activity under our awning is movie night.  With the awning, we not have a Golden Glow Movie Theater thanks to this inexpensive tablet that came with a built-in projector that we aim on the inside of the canopy to watch movies.
The idea was to be able to have more sun protection and rain protection so we could leave hatches open for ventilation. We decided to run our awning from the front of the boat all the way back, past the shrouds and over the roof of the salon. In the tropics, we are looking for more shade over this area when we're at anchor. We carefully kept the fabric forward of the hardtop solar panels and incorporated a way to roll the rear-most part of the awning back if the sun is at such an angle that it might shade those panels.
Design details and what we wanted to accomplish with the sunshade:
enough headroom for a 6'3″ person to be able to walk under the awning all the way to the front of the boat. Our awning even allows that on top of salon roof
shade covering covering trampolines but also extending back to salon areas
raised forepeak permitting substantive air flow for hatches
rain protection on the hatches eliminating midnight hatch close rain drills
forward leaning rain gutters that substantially drain toward the pulpits
strength in design with 16mm round battens and 8-point tarp lift with spinnaker halyard and 4-point tarp lift along the topping lift
multiple configurations for varying privacy, shade and wind conditions
reasonably simple to set up and take down
preconfigured snap-shackles and snap-buckles
sunbrella fabric for durability
tenara gortex thread for longevity
full runs of uv-protected tapes against tension points for better canopy shape and sun resistance
reasonably compact size – whole tarp folds up to a 2′ x 2′ x 1′ area
load-bearing corners reinforced with sailcloth and sail-strength reinforced construction designs
tested up to 25 knot winds thus far with no problem
be able to hang our hammock under the sunshade between the genoa and the mast, and wanted to have enough clearance to be able to use it underneath
rain protection for hatches – we wanted the three hatches at salon level and the two hatches into the third berth and master bathroom all to be covered so we could leave them open even in light rain.
no attachment to the stanchions – so they don't break in high winds
side panels that can go up and down – giving us options for privacy, weather protection or more ventilation and view
windage – the jury is still out on how much wind the sunshade will be able to handle at anchor. Our hope is up to 20-25 knots. Like Field Trip, we used two removable batons to provide structure
relative ease in putting up and taking down – so far Rand can put it up and down on his own. Ellen can assist but not handle it on her own. In part this is because we constructed it to sit so high off the deck. She'd need to stand on something to reach the highest attachments.
Color Choice
We wanted a light color to ensure a feeling of openness, but not one so light it would show dirt too easily. If our sail covers were a dark or bold color, we would have gone with white because the darker sunbrella fades and doesn't wear as well colorwise. In the end, we chose sunbrella's "linen" which is the same as our sail covers, cockpit enclosures and back shade cover between hardtop room and dinghy davit.
Process of Design and Fine-Tuning
The first fitting was to confirm the overall architecture, design and shape of the sunshade. The second fitting refined the tension and attachment points and added flexibility and configuration options. This resulted in the sunshade have three basic formats. The full sunshade with sides down offers greater shade and rain protection. With the sides up, the sunshade provides greater breeze with still substantial shade. The third version, where we take up sides and roll up the aft section that covers salon roof, will be useful if winds pick up because it results in much less windage area.