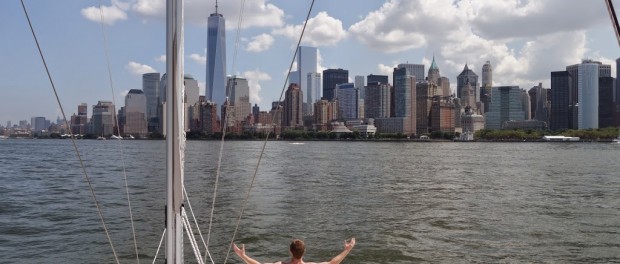 Since we left Florida, New York City has been the ultimate destination, although it took us a few hops, skips and jumps to get there – due to weather, work trips, and even a mechanical hiccup or two.
When we finally reached the city, it was a big deal mainly because it is my hometown. And the weather that day could not have been more beautiful.
Our last leg was a two day sail from Norfolk, VA. Sailing through the last night, the city lights from the New York metropolitan area glowed ever more brightly over the dark sea, and the marine traffic and chatter on VHF Channel 16 also grew steadily as we got closer to "The Big Apple."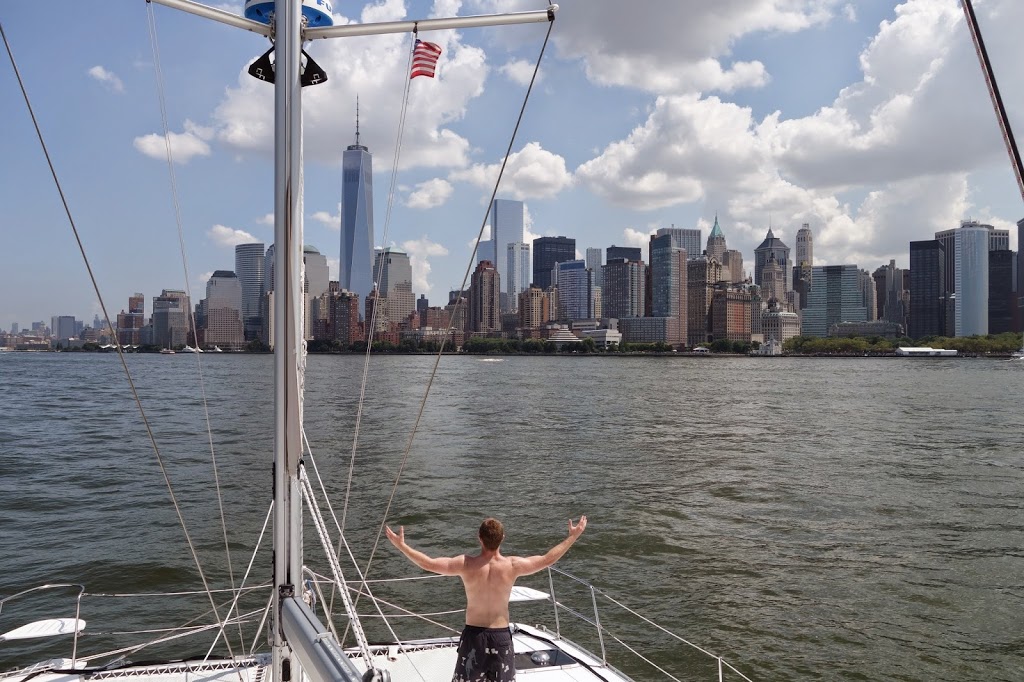 Robby greets Manhattan
Standing on the decks of Golden Glow, I felt small as I spotted huge tankers and cruise ships first on my AIS in the shipping channels, then through my binoculars, and finally with my eyes across the moonlit waves, as we all approached this special destination that was my home for so long, and my parents home all their lives.
During my late night watch on our approach to New York, I kept thinking of my parents, especially my father, who passed away in 1998. He was intensely patriotic and as a decorated veteran of World War II and the Korean conflict, and a Lt.Col. in the U.S. Army, he is buried at Arlington Cemetery. Thinking of my father, I found myself singing "My Country Tis of Thee" as I approached the city he worked for his entire career, running part of the law department of the City of New York, and the city my mother helped Felix Rohatyn save with the Big MAC bond issue back in the 70's.
Once we got to New York, since I'm Manhattan born and bred, it seemed only fitting to stay there, at least briefly. We splurged on one night at Dennis Conner's marvelously-located marina at the base of Manhattan called North Cove. The Wolf of Wall Street's famous yacht scene was filmed there. The blue circle marks where we docked.
As these Apple Maps images show, North Cove is right at the base of the World Trade Center's new Freedom Tower. To the right of the Tower, and a stone's throw from where we docked, is the 9/11 memorial and two deep holes in the ground that are now pools of disappearing water.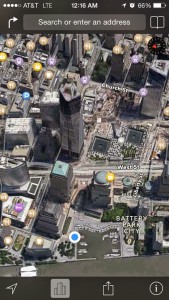 North Cove is a very small marina and docking is notoriously difficult because of current, waves, traffic from the megayachts, Manhattan sailing school boats, and boaters paying by 15 minute increments to be in this area of the city. Rand's boat handling could not have been better and he docked absolutely flawlessly, earning compliments from the dockhands and everyone watching.
Golden Glow docked under the Freedom Tower
Here is Golden Glow, in North Cove Marina, absolutely dwarfed by the Freedom Tower of the new World Trade Center above us. The megayachts in the marina also made our sailing home look like a dinghy. That gave us all a good laugh – and perspective.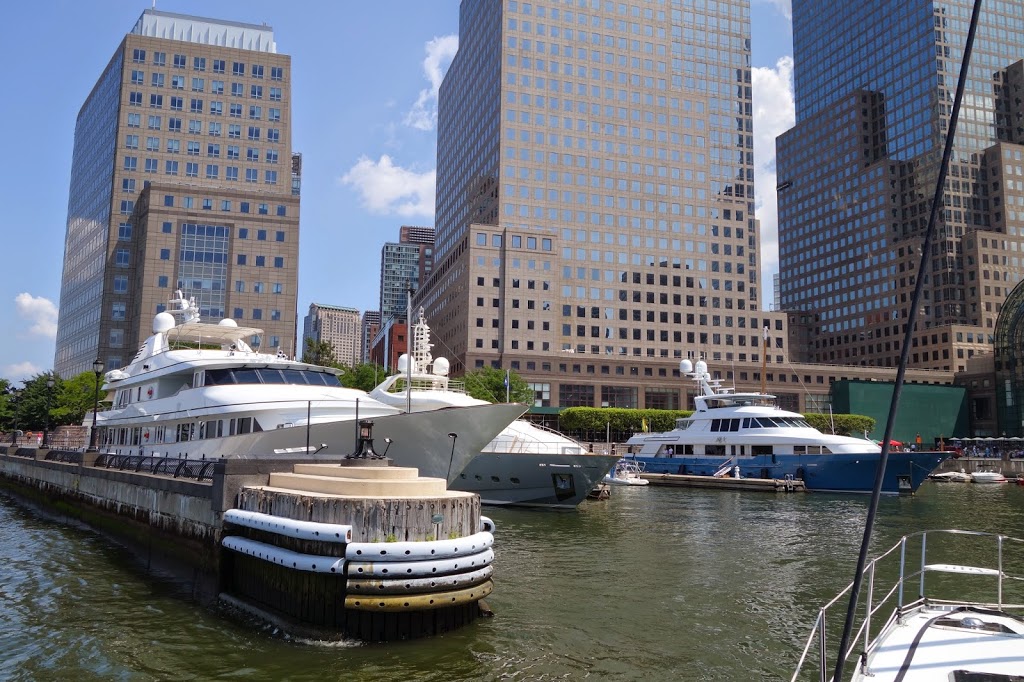 MegaYachts at North Cove Marina
Staying at North Cove was extravagant, but well worth it to make it possible to bring 93 year old Grandma from her Manhattan apartment to see the boat.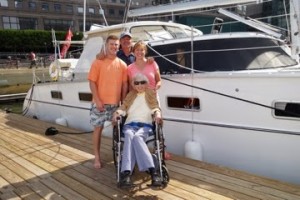 Robby, Rand, Ellen & Grandma
Another treat was to be able to see Tim, who biked down on a City Bike from Ogilvy after the end of his work day to have dinner with us. I love finding occasions to get my boys together!
Robby, Ellen (Mom) and Tim
A good buddy of Robby's from college named Will, who has been working close by at a financial services firm for the summer, joined us too.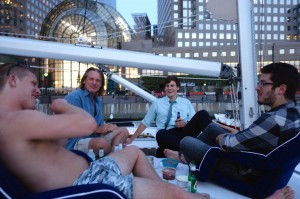 Rob, Rand, Will & Tim