Stainless Steel Getting its Required Maintenance Even in Out-of-the-Way Places
Another multi-day project of mine was tackling our stainless steel, including finding rust that hadn't seen the light of day in a while (such as under our seating and on our bicycles). Wherever the rust was, my objective was to get it off, then polish and protect all our stainless.  I found a lot of rust under the benches aft of the cockpit, and under the two pulpit seats on the front of each hull.  It's satisfying to take the seats off, clean and polish underneath, and put the seats back…even if no one else can see that the rust is gone – GG and I know!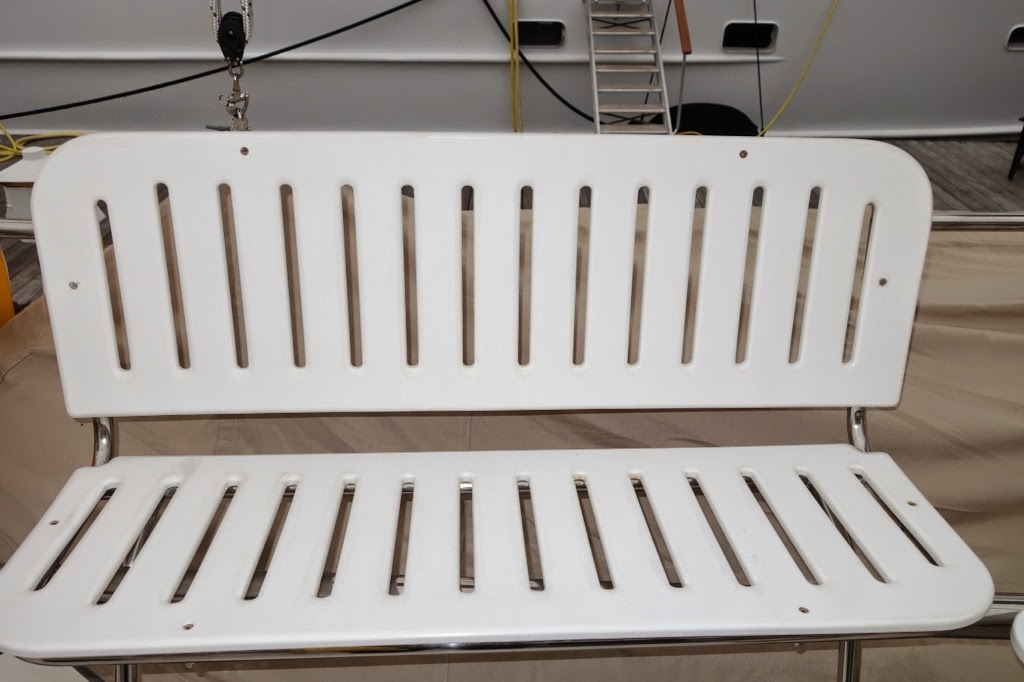 There was rust hiding under the benches: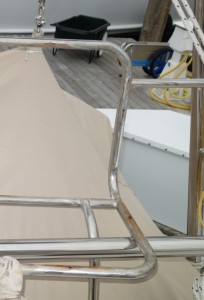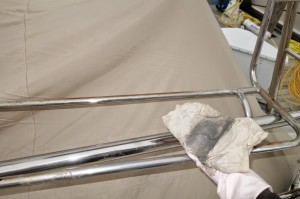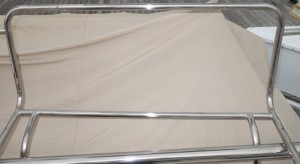 Cleaning it off                                     and                             After- Bling!
In terms of what is best to use, I have become quite the expert because I think by now I've tried every stainless cleaning product there is!
We are of course limited sometimes by what we can get as we sail around the world unless we already have stock in our cleaning supplies.Some yachties swear by Spotless Stainless. I agree. It practically dissolves rust on stainless in front of your eyes. Clearly it uses some strong chemicals, and it smells that way – so be sure to wear gloves, and wash it off quickly with a lot of water. These Collinite products worked brilliantly on the stainless steel. The first step brown cleaner will leave a chalky, ugly residue if you don't get 100% of the cleaner off, so watch out for that.Even though the Metal Wax is described as a one-step process, I like to put the insulator wax on and then buff it off after cleaning the stainless steel. That extra step seems to keep the metal shiny and rust free for longer in the marine environment. You can actually see water bead up on the metal, even salt water…for a while at least until the next application is needed.Another product that is not typically used on boats but that I grew to rely on when I lived on land because it was fantastic at cleaning everything stainless in my kitchen is Bar Keeper's Friend. I tried it on the stainless on Golden Glow and discovered that it works very well here too.It requires a rinse and rub after using it like Collinite.