Antares University in the Exumas (Bahamas), May 2014
What a contrast it was to leave the San Diego wildfires and and arrive in the Exumas in the Bahamas for our Antares University. You cannot imagine two more different environments!
We left behind a cauldron of smoke, ash, intense heat and fire and landed in a paradise of blue-green water, as clear and warm as a bathtub, and pristine, sand beaches that were as soft and gentle as the most comfortable mattress.
Rand and I had never been to the Exumas before and found it to be gorgeous, safe, and unspoilt, with one of the best climates, and most clean and healthy marine environments as we have ever seen.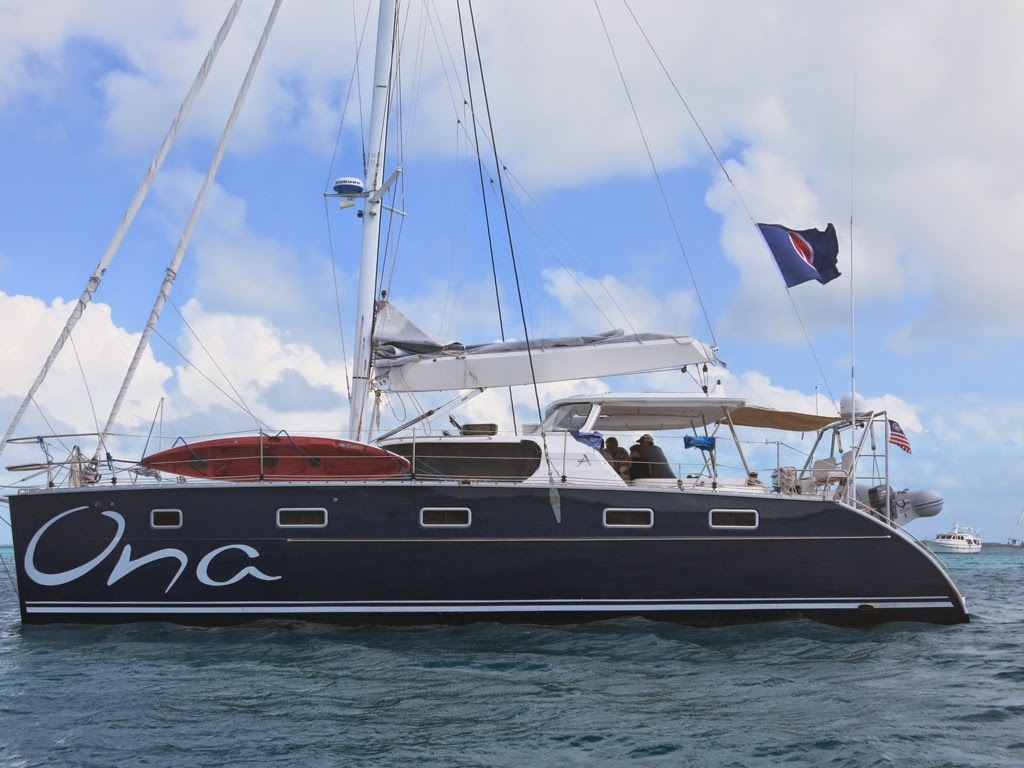 Rob, Salwa and Jeff from Antares Yachts had invited us to join one of their famous "Antares Universities." They borrowed s/v Ona from its owners, Roger and Marta, who live in Florida. Ona is a distinctive and gorgeous Antares due to its navy blue hull.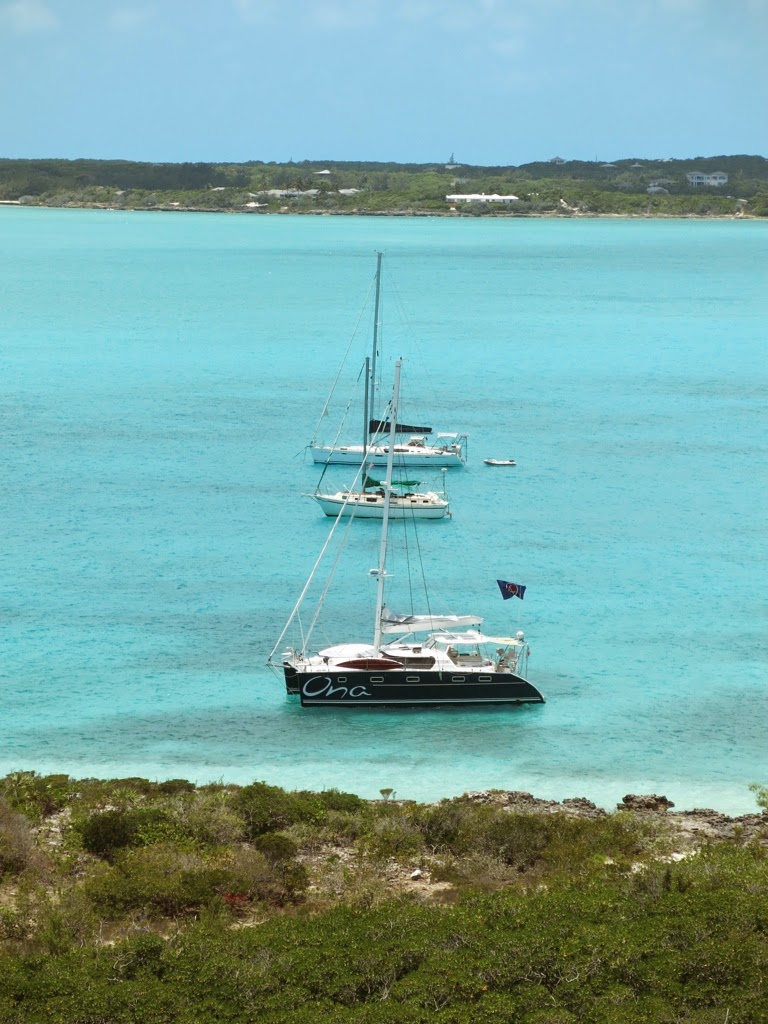 Ona was consistently the most beautiful boat in harbors of beautiful boats.  More than once, other boaters came close by to ask us more about Ona and tell us how beautiful they found her to be.
In addition to providing a very full and informative slate of live classes about their boat, Rob, Jeff and Salwa also gave us a booklet they had created on the Antares 44i that is a wonderful resource for not just Antares owners, but for all sailors.
The classes Rob and Jeff taught consisted of orientations to the boat, her electrical systems, the watermaker, genset, engines and other systems, how to maintain the boat and troubleshoot problems, and how to sail, handle and dock the boat.
view from the top of Monument Hill
Dinner at the Yacht Club
The three days weren't all work and no play by any means. We climbed to the top of Monument Hill on Stocking Island and over to the Atlantic on the other side. We swam, sailed, had lots of time to talk among ourselves and share lots of laughs, which generally extended off the boat, late into each evening, and included doing our part to support the local taxi, bar, restaurant and liquor industries.
Chat n' Chill
Rob, Jeff and Salwa took us to the Chat N' Chill
on Stocking Island for lunch and beach games.  There is a rope swing hanging from a tree, and as you swing, if you happen to look up, you see the remnants of several older ropes that had broken off.  There's also a tightrope strung between two trees. It's not death-defyingly high off the sand, so you can while away hours of time, challenging your balance and seeing how far you can get from one side toward the other.  We met a woman who had been trained as a ballet dancer in her youth and she was the chamption – a good testament to developing core strength and strong legs.
All that play wore us out and Rob shared a secret spot on the boat for a nap…the Main Tamer! The people we shared the classes with were all more experienced Antares sailors, and they all had boats on order, unlike us.
Main Tamer Hammock