Thanks to our veterans, who put their lives at risk to keep us all free! You are all heroes.
As you know, I'm not retired like some cruisers. I love my work, which is intellectual property protection, management and promotion. The most fun and creative part of what I do is taking IP, including talented people, and bringing these great ideas and stories out to the world through many different media and content.
One of my long-time clients is Dr. Andy Baldwin, a board-certified family physician, triathlete, and Naval Officer & Gentleman (yes, a few years ago, he was ABC's "Bachelor").
Andy is a great guy and lots of fun to work with. We are both alums of Duke and also share a passion for improving our nation's health through prevention, fitness and better nutrition, and if needed, high tech-high touch medicine.
It's wonderful to get Andy in front of large audiences to share his inspiring voice. For example, Andy works with Nutrisystem on their Scientific Advisory Board where he can make a big difference to the wellbeing of millions of people. As a 9-time Iron Man and triathlete, he does a lot of elite competitions, most recently the NYC Marathon, which he has run many times, always for some charity or good cause.
Today, to mark Veteran's Day, I placed Andy as a guest co-host on the Pivot Television show, TakePart Live.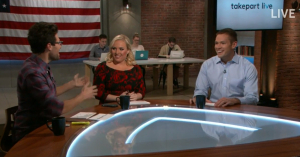 It's sure to be a great show, and I hope you can tune in and watch at 7PM Pacific Time. You can tune in online if your local television or cable/satellite provider doesn't receive Pivot.
Tonight, we celebrate Veteran's Day with a special episode dedicated to those that serve our country.
Lieutenant Commander Dr. Andy Baldwin—who you might recognize from The Bachelor—joins Meghan and Jacob to talk with Mickiela Montoya , a combat veteran who served in the Army National Guard.